HBO's Perry Mason: Why Matthew Rhys Wanted To Join The Robert Downey Jr. Reboot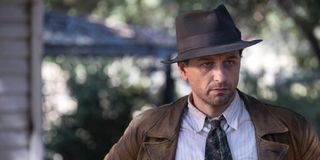 HBO's Perry Mason, a revival of the 1950s series, has been a long time coming. First announced back in 2016, Robert Downey Jr. was attached to star in the titular role. However, a few changes and scheduling conflicts led to Downey dropping out of the role, though he stayed on as executive producer. The baton was then passed on to The Americans alum Matthew Rhys to play the title role. Rhys recently revealed exactly why he wanted to join the Perry Mason reboot.
For some background, Perry Mason is a famous fictional lawyer who first appeared in the 1933 novel The Case of the Velvet Claws by Erle Stanley Gardner. The character has since appeared in several more novels, radio, and four different TV adaptations, including the new HBO miniseries. So, taking on such a renowned character must come with a lot of pressure, but Matthew Rhys is up to the task. Knowing the history of the character, Rhys explained why he wanted to play the titular role in the rebooted miniseries. Here's what he told the A.V. Club:
When it comes to reboots and revivals, there is always a certain amount of pressure, especially knowing comparisons will be made to the original TV show. However, like Matthew Rhys said, HBO's Perry Mason is "a reimagining." Rather than having a number of different cases, the HBO series will cover just one. Considering that the show consists of only eight episodes, having a variety of cases would have definitely been "exhausting."
All that said, longtime fans of Perry Mason will probably recognize some notable changes between the TV series of the 1950s and the new HBO series right off the bat. The trailer alone showcased a darker version of the iconic character. What's more, he's no longer a criminal defense lawyer, but a private investigator.
Still, the series pays homage to the original source material by being set in the 1930s. It's also very noir and documents the origin story of Perry Mason, so that's exciting. Joining Matthew Rhys in the HBO miniseries is Orphan Black's Tatiana Maslany and John Lithgow.
Perry Mason airs every Sunday at 9:00 p.m. ET on HBO. For more on what to watch in the coming months, be sure to check out our 2020 summer TV premiere guide.
Your Daily Blend of Entertainment News
Thank you for signing up to CinemaBlend. You will receive a verification email shortly.
There was a problem. Please refresh the page and try again.