What The Mad About You Revival Learned From Will And Grace And Other TV Continuations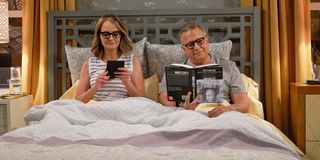 It's been 20 years since Mad About You finished its seven-season run on NBC, and three years since the series' showrunner and stars started pitching the revival without much success. Now that the limited revival series has finally premiered, though, Mad About You boss Peter Tolan and Helen Hunt shared what their sitcom learned from Will and Grace and other TV continuations that helped navigate Mad About You's return to television.
For someone like The Office's Greg Daniels, avoiding a TV revival is about not wanting to disappoint the fans and ruin a great ending, and Peter Tolan felt that pressure as well with Mad About You. He says he had to learn from both successful and failed television revivals to figure out what would work for Mad About You's comeback and what would draw in their former viewers. Here's what he had to say about it.
Peter Tolan nails it. That pretty much is exactly what fans want. Some revivals get that notion, while others don't, and there's enough of them on television right now to spot the differences. For example, Fuller House (while technically a spinoff) has largely stuck to the same Full House formula while centering different characters, while Netflix's four-part Gilmore Girls revival wasn't what many fans had hoped it would be.
Mad About You star Helen Hunt looked specifically to the Will and Grace revival, which is currently in its third and final season on NBC, for insight about her own return. Its success has paved the way for what revivals can be and Hunt told The Hollywood Reporter she wanted a piece of that pie.
Helen Hunt's co-star Paul Reiser says that Paul and Jamie Buchman's New York apartment is still the same, but with some newer items to show they haven't been in stasis for two decades. I'm hopeful the theme song will be making a comeback, too. Not everything has to change, right?
The Mad About You revival follows the Buchmans after their daughter Mabel leaves for college and they go back to being by themselves. The limited series will run for 12 episodes on Spectrum's streaming service. The first six episodes are now available, with the remaining six set to drop on December 18.
For more on what to watch, be sure to check out our complete guide to every new and returning show premiering through the end of the year.
Your Daily Blend of Entertainment News
Thank you for signing up to CinemaBlend. You will receive a verification email shortly.
There was a problem. Please refresh the page and try again.