6 Reasons To Watch #blackAF On Netflix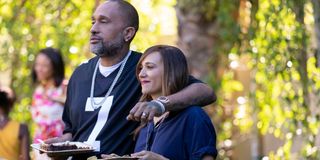 #blackAF is a Netflix series that premiered in April 2020 and follows a fictionalized version of Kenya Barris's life with his wife and six kids. Rashida Jones plays his characters' wife Joya Barris. For a little history on Kenya Barris, he's the mind behind many of your favorite TV shows and movies, including Girls Trip, the 2019 Shaft movie, and the Black-ish franchise.
#blackAF focuses on the Barris clan and their daily struggles as a modern American, rich black family. The show falls somewhere between sitcom and an edgy family comedy series. Besides Jones, most of the main cast includes new comers--since most of the series' cast is comprised of young children and Barris himself.
#blackAF is still a relatively new series, so you may have considered watching it, but not sure if it's worth your commitment. Well, gather around. Let me tell you some reasons why you might want to check out #blackAF.
It's Like A Less PG Version of black-ish
If you love black-ish, then you may notice many similarities between the series. This is understandable with Barris being the mind behind both series, and if you read different books by the same author, most likely, you'd notice that they have a pattern with themes and storytelling style. So #blackAF and black-ish having similarities isn't really unusual considering the source of both works. However, they are different enough so that it doesn't feel like you're watching a back-ish repeat.
In fact, #blackAF is a lot more bold and less family friendly. The characters drop the f word quite casually and there is an entire episode that features a college age teen character and the parents doing drugs. If you go into the series expecting wholesome family fun, then you may be a little disappointed. But if you think black-ish is a little too PG for your taste, then #blackAF might strike your interest.
It Shows An Imperfect Family
Most family sitcoms show a really loving and close family. They might not be perfect, but they behave in a way that helps everyone grow, learn, and feel supported. It's the norm with family sitcoms, especially ones like Modern Family and The Cosby Show. The Barrises are the direct opposite of any healthy family you've seen portrayed on TV.
Both parents have told their teen daughter Drea (Iman Benson) that they don't like her, and they think people will beat her up one day. Kenya has also called his other daughter, Chloe (Genneya Walton) a thot. The kids are just as horrible to each other. The Barris family is the kind of horrible that you'd expect from characters in shows like It's Always Sunny In Philadelphia. #blackAF ended Season 1 with the family kind of finally coming together, and showing that despite their bad behavior towards each other, they still love and support one another when necessary.
The whole we're in this together message is great, but I kind of enjoyed that the #blackAF family is terrible. It's a unique, probably more realistic, look at modern families. People say and do really mean and nasty things to each other in a family, but it doesn't diminish that they still protect, love, and care about one another.
It Addresses Issues Facing A Modern Black Family
The most Black-ish thing about #blackAF is that it addresses issues facing black American families, especially ones from an upper middle class or wealthy family. A few of the topics that #blackAF discusses are the celebration of Juneteeth, the sexualization of young black girls, and raising children who can't dance. One of #blackAF's best episodes is Episode 5, "yo, between you and me... this is because of slavery," which focuses on black movies vs white movies.
It poses the question: what makes a movie good? And should black people give passes to black movies because it helps more movies by people of color get made? Or should they hold them to the same standard as white movies? The episode didn't offer any real answers, but it's an interesting debate that many film lovers and critics have, and it was fascinating to see #blackAF address the topic and present both sides of the discussion.
To See The Cameos And Guest Stars
#BlackAF Season 1, Episode 5 features a cameo by Tyler Perry, and he offers his own insight into the topic of black films in the mainstream media. His cameo was one of the best in #blackAF because it was both funny and thought provoking. He's among many great cameos, including one by Issa Rae, Lena Waithe, and Ava DuVernay.
The series also includes guest appearances by Nia Long, Angela Kinsey, Mike Epps, and Kym Whitley. Most of the guest appearances and cameos really add to the overall comedic dynamic of the characters, and are fun additions to the show.
It's A Quick Binge
With so many series out there, committing to a new show may seem more like a burden than a fun task, especially if you have to watch 22 episodes of a 40 minute show. TV fatigue is a real thing, ask a doctor. Luckily, for those wanting something quick to binge, then #blackAF is perfect. The first season only has eight episodes. The length of the episodes vary, but many are about 30-ish minutes.
If you have nothing to do, then you can get through the entire first season of #blackAF in one or two afternoons.
The Supporting Cast
#blackAF is one of those series that benefits from having an array of crazy side or supporting characters. None of the Barris family is exactly normal, but they look way more normal when compared with the unusual cast of supporting characters.
A few of my favorites are Broadway (Bumper Robinson.), Danny (Gil Ozeri), Marquise (Doug Hall), Aunt Nadine (Kym Whitley), and Grandma (Valarie Pettiford). Grandma and Aunt Nadine only appeared in one episode, but they are hilarious and scene stealers. Broadway is probably the best supporting character with his 'I'll do and say what I want' attitude. He's both offensive, funny, and cringe-worthy.
Danny was a character who became more funny with each episode. It seems like the writers didn't quite have a direction with him at the start of the season, but by the #blackAF Season 1 finale, they had found their direction and voice for Danny. The comedy with Marquise partly comes from Kenya's hatred for him, and the other part comes from him being a genuinely cheerful, slightly oblivious character. Hopefully, #blackAF let's us see more of these characters, because they provide the series with a lot of comedy.
Netflix just made the official decision to renew #blackAF, so it won't be long before we catch up with the Barris family again. #blackAF Season 1 is currently available on Netflix. Stream it here (opens in new tab).
Spent most of my life in various parts of Illinois, including attending college in Evanston. I have been a life long lover of pop culture, especially television, turned that passion into writing about all things entertainment related. When I'm not writing about pop culture, I can be found channeling Gordon Ramsay by kicking people out the kitchen.
Your Daily Blend of Entertainment News
Thank you for signing up to CinemaBlend. You will receive a verification email shortly.
There was a problem. Please refresh the page and try again.