The 10 Best Trailer Park Boys Episodes, Ranked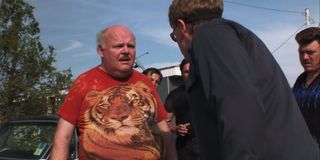 I have no shame in admitting that Trailer Park Boys is one of my favorite shows of all time. I can't count how many times I have watched the Canadian mockumentary series about Sunnyvale Trailer Park and its colorful residents (the original run and not the abomination that is the Netflix revival). Ricky, Julian, and Bubbles have not only given me some of the best episodes of raunchy comedy of all time, it's also created some of my favorite memories.
There was a stretch of time in college when you couldn't go to anyone's house without some random episode of Trailer Park Boys playing on a computer, television, or even phone at times. My friends and I were obsessed, absolutely obsessed with the show, and over time, we got to the point where we would pretty much have "best of" marathons where we would each pick an episode and then pass the remote. So, to honor those friends and memories, I've put together a list of my favorite episodes with appearances from some of the show's best characters, moments, and plenty of Jim Lahey (RIP John F. Dunsworth) falling down black-out drunk.
10. Friends Of The Road, Season 7, Episode 4
The Season 7 episode "Friends of the Road" has it all in terms of touchstones of Trailer Park Boys. Centered around Bubbles and Ray crossing the Canada-United States border to sell scrap metal and go to the model train convention, things get out of hand when Ray gets arrested for soliciting prostitution once the pair gets in Maine. This even starts perhaps the most epic of Bubbles' meltdowns involving his old puppet "Conky," as well as the introduction of heavy metal frontman Sebastian Bach and the iconic Swayzie Express model train plot (not to be confused with the late Patrick Swayze). Watching Bubbles trying to prevent Ray from, well, being Ray, never gets old. Neither does watching the ridiculously animated Sebastian Bach argue with a young child about model trains.
9. The Fuckin' Way She Goes, Season 5, Episode 3
The Season 5 episode "The Fuckin' Way She Goes" somehow turns tragedy into comedy when Ricky accidentally sets his father's trailer ablaze when his plan of holding a barbecue goes up in the flames. In the final moments of the episode when Ray is setting in his wheelchair staring at his smoldering trailer, he sits there and gives one of the show's best lines: "It's the way she goes, buddy. It's the fuckin' way she goes." Everything leading up to that moment is great as well — Ricky, Julian, and Bubbles paving a driveway with hash, Jim Lahey turning his life around, and plenty of jokes at the behest of Randy — so it's a worthy addition to your binge.
8. Jim Lahey Is A Drunk Bastard, Season 2, Episode 2
After watching the entire series, it's wild to go back and watch the first couple of seasons when supporting characters like Sam Losco weren't fully destroyed and reformed by the antics of the Ricky, Julian, and Bubbles. That's very much the case in the Season 2 episode "Jim Lahey Is A Drunk Bastard," which follows the election for trailer park supervisor between a drunken Lahey and still almost-presentable Losco (before he went all caveman and started performing illegal surgeries in the back of his veterinarian office). And what's not to love about an extremely drunk Jim Lahey (a far stretch from his Haven character) giving a drunken and impassioned speech about being the trailer park supervisor that's on the local news for some reason?
7. Who's The Microphone Assassin, Season 3, Episode 4
Things are on the up-and-up for Sunnyvale's resident rapper J-Roc until he's forced to come to quite a difficult realization after he is accused of stealing someone's beats, lyrics, and just about everything else thanks to a little outside interference from Jim Lahey. There's just something about watching J-Roc (a white rapper who honestly believes he's black) getting broken down and going by his real name, Jamie. And what would any episode of Trailer Park Boys be without a half-baked scheme by Rick and Julian to raise funds and sell some dope, and that's what happens in the Season 3 episode "Who's The Microphone Assassin."
6. Closer To The Heart, Season 3, Episode 5
Watch enough Trailer Park Boys and you'll know that Bubbles is obsessed with two things: his trailer park cats and Canadian prog-rock band Rush. In the Season 3 episode "Closer to the Heart," Bubbles is all ready to go by tickets for the band's upcoming concert when one of his kitties needs to be taken to the vet, leaving the task of getting tickets to Randy, who then passes it on to Corey and Trevor. When things don't go according to plan, we see the show's most notable and most memorable cameo. Add numerous jokes about Rush and the band's song titles, and you have yourself quite an episode.
5. The Delusions Of Officer Jim Lahey, Season 3, Episode 7
One of the best parts of Trailer Park Boys is Jim Lahey. There's just no way of getting around it, especially when he eventually falls off the wagon and back onto a giant bottle of cheap whiskey that he consumes like a southern gentlemen sucks down sweat tea on a hot summer afternoon. There are few examples of this more entertaining than in the Season 3 episode "The Delusions of Officer Jim Lahey" where the Sunnyvale trailer park supervisor puts on his old police uniform and a wig for some reason, giving us one of my favorite moments in the entire series when J-Roc yells out "Kojak got a wing on."
4. If You Love Something, Set It Free, Season 4, Episode 6
Ah, you couldn't have a list of the best Trailer Park Episodes without including Steve French, the mountain lion obsessed with eating large amounts of marijuana and trying to mate with Trevor's leopard-print jacket. The Season 4 episode "If You Love Something, Set It Free," is primarily a Bubbles episode (and one of the best at that), and sees the character form a bond with his biggest cat yet, even if it's the direct result of the trailer park resident feeding the dangerous cat larges amounts of weed to subdue him. This episode was so popular with my group of friends, one of my buddies named his dog Steve French in honor of the adorable and ferocious "big kitty" that stole Bubbles' heart and a lot of Ricky's weed.
3. The Way Of The Road, Season 6, Episode 1
Season 6 of Trailer Park Boys got off to such a happy and heartwarming start for Ricky and his dad Ray as the father-son duo were freed from jail and entered the recycling business in the opening episode "The Way of the Road." And even though Ray refuses to use a toilet like a normal person (he's still used to his method of peeing in jugs and throwing them out the window of his big rig), things are going smoothly around the park. That is until Randy decides it's time to break up with Mr. Lahey and take his job as trailer park supervisor, which is about the same as kicking a hornet's nest full of cheap booze and bad decisions.
2. Jump The Cheeseburger, Season 7, Episode 7
Philadelphia Phil Collins is, without a doubt, my favorite character on Trailer Park Boys, and there's no getting around it. Besides being a "Mustard Tiger" and the king of saying "Bam!!!!" the unique character was also at the center of one of my favorite episodes, "Jump The Cheeseburger." I can't even count how many times I've watched Phil Collins cheer on his business partner as the shirtless former assistant trailer park supervisors puts on homemade armor and jumps a giant cheeseburger like Evel Knievel in the middle of the trailer park. And that doesn't even include all of the other insane stuff that's going on in the background throughout this can't-miss episode.
Honorable Mention: Take Your Little Gun And Get Out Of My Trailer Park
Before we get to the best episode of Trailer Park Boys, let's take a look at the show's first episode "Take Your Little Gun and Get Out of My Trailer Park," which sees Ricky and Julian released from prison to find one of the show's most ridiculous villains running things. Although it's not one of the best episodes of the series, it does show signs of what would become of Julian and Ricky in the years to come. It's also before Bubbles became the breakout star of the show, so it's weird seeing him in smaller role.
1. The Green Bastard, Season 4, Episode 4
If the first season of Trailer Park Boys had you wanting more Bubbles in your life, then the Season 4 episode "The Green Bastard" will give you more than your fill of the kitty-loving and wrestling-obsessed grocery cart mechanic. This is without a doubt my favorite episode of the series, and that's saying a lot considering how much I love Philadelphia Phil Collins. But this episode has wrestling, the Green Bastard, and an appearance from the show's most absurd one-off character Bernie Sanford, the president of The International Association of Trailer Parks, Trailer Park Supervisors and Assistant Trailer Park Supervisors who's better known for saying "I ain't got no candy for you" after Randy takes things way too far.
Those are my favorite episodes of Trailer Park Boys. I know there are countless other episodes that you may think are better than any number of those listed above, but I stand by my list. If you think I have should have included other episodes make sure to let me know in the comments. Well, unless you come in talking about anything after the show concluded it's first run in 2007 because those Netflix episodes (Snoop Dogg couldn't even save them) don't hold a candle to the way the cast and crew caught lightening in a bottle in a Canadian trailer park.
Philip grew up in Louisiana (not New Orleans) before moving to St. Louis after graduating from Louisiana State University-Shreveport. When he's not writing about movies or television, Philip can be found being chased by his three kids, telling his dogs to stop yelling at the mailman, or yelling about professional wrestling to his wife. If the stars properly align, he will talk about For Love Of The Game being the best baseball movie of all time.
Your Daily Blend of Entertainment News
Thank you for signing up to CinemaBlend. You will receive a verification email shortly.
There was a problem. Please refresh the page and try again.