RIP Neil Peart: Freaks And Geeks' Judd Apatow Gets Emotional Over Rush Drummer's Death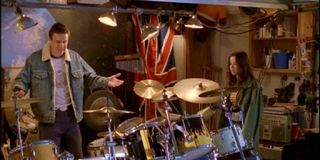 Neil Peart, the drummer and lyricist for the Canadian rock band Rush, has died. He was 67. Peart died after a three and a half year battle with the most aggressive brain cancer, Glioblastoma, on January 7. Freaks and Geeks producer Judd Apatow got emotional over the Rush drummer's death.
The news of Neil Peart's death hit close to home for Judd Apatow because the producer and director loved Rush's music and it was even included on the beloved and short-lived series Freaks and Geeks. In the episode titled "I'm with the Band," Jason Segel's Nick Andopolis, who was himself a huge fan of Rush, plays the drums along to Rush's "Spirit of the Radio." A fan tweeted a clip of the inspiring and spirited scene to Apatow, and he replied with an emotional response.
It's hard to encapsulate all that an artist meant to someone and, for Judd Apatow, the clip was likely a reminder of how affecting Rush's music was. The clip was especially moving because Jason Segel's character was drumming his heart out and the clip, in its own way, captured the spirit of Neil Peart.
You can watch the Freaks and Geeks clip that made Judd Apatow emotional and paid tribute to Neil Peart and Rush below. Nick Andopolis pours his heart and soul into "Spirit of the Radio" and it shows.
Through the clip alone, it's not hard to see why Neil Peart was so beloved. The drummer was so renowned that he was even referenced in the Family Guy episode "Chick Cancer," with Chester Cheetah declaring that there's "no fucking drummer better than Neil Peart" while listening to Rush's "Tom Sawyer."
Neil Peart's death was first announced by the official Twitter account of Rush, which was comprised of Peart, Geddy Lee, and Alex Lifeson.
Neil Peart, whose last tour with Rush was in 2015, touched the lives of many and was admired for his technical proficiency and drumming talent, as well as the heart he brought onstage during live performances. The legendary drummer's loss was felt throughout the music and acting communities.
We at CinemaBlend offer our condolences to the family and friends of Neil Peart in this difficult time.
Your Daily Blend of Entertainment News