Trailer Park Boys Headed To Archer, Plus Visit The Offices Of Sterling Archer Draper Pryce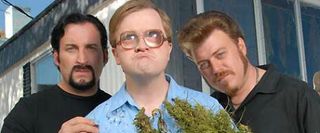 Last week's third season premiere of Archer featured one of the best guests stars that the series has ever had in Burt Reynolds. As our hero's hero (initially), Reynolds was an amazing fit for the show and provided a fantastic and hilarious start to the season. With those giant shoes to fill, FX has been hard at work lining up a bunch future guests, including Breaking Bad's Bryan Cranston and now, the trio from Trailer Park Boys. That's right, Randy, Julian and Bubbles will all be lending their voices to the superb spy spoof.
The TPB' appearance was first revealed (buried) in the bottom of a Rolling Stone article that focused on the show's third season return. After the the story broke, the boys took to their Facebook Page in order to spread the word and Bubbles (Mike Smith) himself said, "hey folks! Myself, Robb and JP are gonna be guest starring on FX's hit animated series Archer this season" (Robb referring to Robb Wells who plays Ricky and JP is John Paul Tremplay who plays Julian). No word on whether the trio will appear in the show as the Trailer Park Boys or whether it will just riff on the breakout Canadian series. Either way, it should make for yet another excited episode for all those at ISIS.
In related news, meaning that it is both awesome and pertains to Archer, a fan has brought the animated spy comedy back a few decades by mixing it with the popular AMC series Mad Men. I'm beyond sick of these TV show mash-up pages (my favorite is the Game of Thrones and Arrested Development inspired tumblr "ArrestedWesteros") but I still found this one funny and worth sharing. In fact, it works so well because it's such an obvious combination. Archer already looks like Don Draper and the characters that populate either offices are easily interchangeable... as you can see when you visit Sterling Archer Draper Pryce.
Archer airs Thursdays at 10p.m. ET on FX. It stars H. Jon Benjamin, Aisha Tyler, Jessica Walters, Judy Greer, Chris Parnell and Amber Nash. It was created by Adam Reed.
Your Daily Blend of Entertainment News
Thank you for signing up to CinemaBlend. You will receive a verification email shortly.
There was a problem. Please refresh the page and try again.