New Falcon And Winter Soldier Rumors Make Me Hopeful Captain America Is Coming To Season 2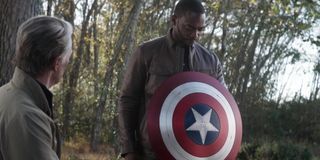 Filming is currently on pause for The Falcon and the Winter Soldier, but that doesn't mean there haven't been any speculative news items about the upcoming Disney+ series. Following the events of Avengers: Endgame, it was assumed that Sam Wilson would thereafter take up the mantle of Captain America, considering old-man Steve Rogers even gifted Sam his shield at the end of the movie. Sam is obviously keeping his Falcon moniker for the Disney+ show, but new Falcon and the Winter Soldier rumors make me very hopeful that Captain America may officially be coming to Season 2.
To be clear right away, it hasn't been confirmed yet that The Falcon and the Winter Soldier would be getting Season 2 from Disney+. It's presumed that it will, given the popularity of the MCU, and the success of The Mandalorian proved that the streaming service is cool with keeping big-budget projects on board. Should Season 2 happen, though, the Murphy's Law Podcast is reporting that it would almost technically be a different show with a new name. In the host's words:
Now, my gut instinct says and hopes that this rumored name change for a potential Season 2 could mean that Sam would finally take up the official mantle of Captain America. It's not out of the realm of reality to think that the traumatic experience at the heart of the rumor would be that either Anthony Mackie's Sam Wilson or (more likely) Sebastian Stan's Bucky Barnes gets killed off by the end of the season, leaving the other character to fully take over as Steve Rogers' Captain America successor.
Granted, the MCU usually holds its most depressing deaths for Avengers movies. But without anymore of those on the way, it would make a big impression for Marvel's shift to TV streaming to give its first major non-S.H.I.E.L.D. series a big death to mark the occasion.
Could the next installment be plainly called Captain America, or would there once again be another character name in there? Perhaps the traumatic situation would be something else, allowing for a Captain America and Bucky Barnes, or maybe we'll get more crossover potential from a Captain America and the White Wolf? Maybe both Sam and Bucky will take on the red, white and blue costume for the sitcom My Two Captain Americas. Whatever the case may be, Sam becoming Captain America for real is long overdue, so here's hoping that's the route they take.
Based on the promotional material for The Falcon and the Winter Soldier, it seems the government has introduced the world to a Captain America ripoff by the name of U.S. Agent. Speculatively speaking, I think Sam and Bucky will end up kicking his ass by the end of Season 1, allowing for Sam to finally become Captain America for good. That transition would finally bring Sam's storyline full circle, so hopefully the rumored name change will indeed reflect his new moniker.
What's more, The Falcon and the Winter Soldier's potential name change and shift makes sense. The podcast hosts also speculated that a potential Season 2 wouldn't be at all like a traditional TV show format. Other Marvel's Disney+ shows such as WandaVision and Loki are also taking non-traditional routes for their stories, and this rumor conceivably points to Falcon and Winter Soldier keeping that creative process intact. For now, this hopeful report is all we really have to hold onto until this news is (or isn't) confirmed by Disney+.
The Falcon and the Winter Soldier is scheduled to debut in August on Disney+, but stay tuned to CinemaBlend for updates on the premiere date. In the meantime, be sure to check out our 2020 summer TV premiere guide for more on what to watch.
Your Daily Blend of Entertainment News
Thank you for signing up to CinemaBlend. You will receive a verification email shortly.
There was a problem. Please refresh the page and try again.