Star Trek Legend William Shatner Explains Why The Iconic Franchise Is A 'Phenomenon'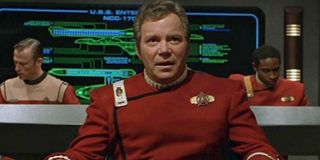 Star Trek has inarguably impacted pop culture. Since the original series premiered back in the 1960s, it has launched a number of movies and TV show spinoffs, including Star Trek: The Next Generation and Deep Space Nine and the more recent CBS All Access shows like Star Trek: Discovery. You likely won't find a single person who doesn't know Captain Kirk and Spock by name, either. Recently, Star Trek legend William Shatner explained exactly why the iconic franchise is such a "phenomenon."
When any given TV show launches, there's no telling what kind of impact it will have on fans and pop culture in general. Will it be remembered for generations to come or forgotten? Star Trek has managed to maintain its iconic status for decades now, buoyed by its loyal fans and the plethora of reboots and spinoffs that keep the spirit of the original show alive.
To paraphrase the show's wildly popular quote, Star Trek has boldly gone where no franchise has gone before. Speaking with PopCulture.com, William Shatner, who played Captain James T. Kirk on the original series, explained what it is that makes Star Trek so special. Here's what he said:
The franchise is indeed an "unexplained" phenomenon of our time, though William Shatner said he used to joke that the reason it's iconic was because it offered some "vision of the future." Whatever the reasons, the franchise has very obviously struck a chord with so many over the last few decades.
The franchise likely found new fans when director J.J. Abrams rebooted the original characters in 2009's Star Trek. In 2017, CBS All Access breathed new life into the franchise by launching its own set of Star Trek series, Star Trek: Picard and the upcoming animated series Star Trek: Lower Decks now among them. William Shatner might be right, there won't be "anything like it in our lifetime."
What's more, the character of Captain Kirk holds a unique place in William Shatner's heart. That's no surprise considering that he originated the character in 1966's Star Trek, playing Kirk for three seasons and in several films thereafter. Shatner went on to say that when writing books set in the Star Trek universe — a series of books penned by the actor that don't follow the same continuity as other show-based novels — he "dramatized" his own life by "giving it to Kirk." However, regardless of his connection to Kirk, the actor has no intention of reprising the role.
Viewers who can't get enough of the Star Trek universe can watch Star Trek: Discovery and Star Trek: Picard right now on CBS All Access. For more on what to watch, be sure to check out our 2020 summer TV premiere guide.
Your Daily Blend of Entertainment News