America's Got Talent Judge Howie Mandel Debunks Concerns That He Was Being Held Captive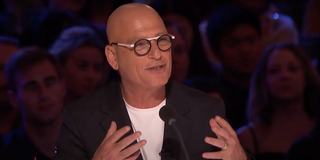 With everything that's been going on in the world today, overzealous fans being concerned for America's Got Talent judge Howie Mandel's safety is just one of many plot twists of 2020. After Mandel posted an offbeat TikTok video, rumors began swirling that the reality show judge was being held captive. Yes, seriously. Following that weirdness, Mandel is openly debunking the rumors regarding his lack of safety.
It all began with a TikTok video of Howie Mandel cutting up a paper bag at the edges and labeling it "shoe stuff," as a quasi-parody of other tutorial videos on the platform. The video has since gone viral, with many fans making their own TikTok videos to share concern for the America's Got Talent judge. You see, they believed he was being held captive – as is an increasingly common assumption when celebs get a little odd – and that the DIY video was his cry for help. But the comedian wants everyone to know that he is, in fact, just fine. Here's what he told BuzzFeed about the situation:
It's obviously good to be assured of Howie Mandel's safety. This is actually the second time that Mandel has gone on record to stem the flooding concerns for his well-being. The America's Got Talent judge went on to say that he'd gotten phone calls regarding the situation and heard about the numerous conspiracies that his original video spawned. You can watch Mandel cut up that paper bag below.
Wanting to ease people's minds, Howie Mandel made another TikTok video to confirm that he was indeed okay. However, some didn't believe him and continued to speculate about the situation. Of course, Mandel once again reassured concerned fans that there was nothing suspicious about his videos and that the movements he was doing in his "I'm fine" TikTok weren't secretly signs that something was indeed amiss.
Despite the rather bizarre situation, Howie Mandel was comforted by the fact that people cared about his safety, even if he was very confused by it. In his words:
Whew! While it might still not convince everyone, Howie Mandel is "fine." He's currently busy judging Season 15 of America's Got Talent, for one, as the competition show started airing its remote auditions, with more live shows on the horizon. However, rather than hinder the show, the stay at home auditions have been pretty awesome.
Fans can watch Howie Mandel on America's Got Talent every Tuesday night at 8:00 p.m. ET on NBC. For more on what to watch, be sure to check out our 2020 summer TV premiere schedule, as well as our fall guide to new and returning series.
Your Daily Blend of Entertainment News
Your Daily Blend of Entertainment News
Thank you for signing up to CinemaBlend. You will receive a verification email shortly.
There was a problem. Please refresh the page and try again.