Watch America's Got Talent Rapper Surprise Sofia Vergara Into The Audience With Wild Performance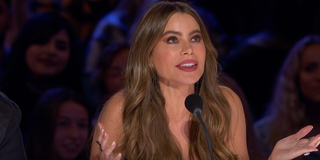 You know what? There are a lot of things that America's Got Talent is good for. You can tune in to any season and see amazing fashions from Terry Crews, Heidi Klum, or newest judge Sofia Vergara, of course. But, everyone who comes to AGT watches to discover people with some extraordinary talents who would have possibly toiled in total obscurity without the show. This season has been no different, and already offered up some wonderful singers and dancers. It's no secret, though, that some of the people who hit the AGT stage have other...less common gifts. Tonight, one rapper showcased a talent so oddball that it surprised Vergara right off the judges stand and into the audience.
Rapper Chef Boy Bonez took to the stage after telling an inspirational story about how he discovered the joys of rapping as a young teen doing rap battles, going on to win several, but hasn't been able to make it to the next level in his career yet. Now, anyone who has watched America's Got Talent on a regular basis will know that a lovely story isn't a guarantee that a contestant will get up on stage and deliver a heartwarming performance, and such was the case with Chef Boy Bonez. He's plenty talented, just not in the way we were expecting. Take a look!
Wooooooo, boy! Alright, I might need a minute after watching that again...OK, let's just dive into what Chef Boy Bonez did. Couldn't you feel the audience getting restless while listening to way too much of his intro and too many of his "Let's get it poppin' right now!" But, then Mr. Bonez headed down the stage so that he could more fully present himself to the judges panel, which included guest judge (and Sofia Vergara's former Modern Family co-star) Eric Stonestreet, and this was when we saw the true nature of his talent.
Sure, Sir Bonez was rapping his heart out, but he was also poppin' those eyeballs right outta his head! And, he did it much to the dismay of many in the audience, Howie Mandel and (to a not entirely extreme extent in my opinion) Sofia Vergara.
To Vergara's credit, she was never fully on board with what Chef Boy Bonez, The First Of His Name was doing. As soon as she saw those eyeballs bulge out of their sockets, she was visibly horrified to the point where the poor dear appeared to almost fall out of her chair before quickly hitting her X and turning away from the scene of this hip hop offense.
Bonez The Elder soon went back up to the stage, and that's when Sofia Vergara, bless her heart, turned around, pointed at the X button in front of Mandel and yelled "Push it!" to try to get Chef Boy Bonez to stop the madness. Alas, her fellow judges were too shocked to do anything, so when he made another pass by their station, Vergara high tailed it for further reaches of the auditorium and fell right into the kind arms of some young women in the front row.
I mean, can you really blame her? I, too, am weird about seeing people bulge their eyes out of their heads, and I've never even had to watch it happen right in front of my face, so I'd probably be joining Sofia Vergara in stumbling into the audience were I to be ambushed in such a manner by a performer.
As a side note? Popping your eyes out of your head is either called exophthalmos, proptosis or globe luxation, depending on the degree to which the eyeball is pushed forward, and I'm going to guess that Chef Boy Bonez is capable of full-on globe luxation, because I'm pretty sure I saw them floating in space above his face parts at several times. And, yes, I may have done too much research but I had to distract myself from my repeated use of words like "bulging" and "popping" somehow, so try not to be too hard on me, alright?
In the end, Chef Boy Bonez got the three yes votes he'd need to go through to the next round, meaning that we'll be seeing the whole of his left and right eyeballs again at some point. So, great?
America's Got Talent airs every Tuesday on NBC at 8 p.m. EST. For more, hopefully less eyeball-centric entertainment, check out our 2020 Netflix guide and see what else is coming to TV this summer!
Yennefer's apprentice, Gilmore Girl; will Vulcan nerve pinch pretty much anyone if prompted with cheese...Yes, even Jamie Fraser.
Your Daily Blend of Entertainment News
Thank you for signing up to CinemaBlend. You will receive a verification email shortly.
There was a problem. Please refresh the page and try again.