How Stargirl Totally Proved Me Wrong In The Latest Heartbreaking Episode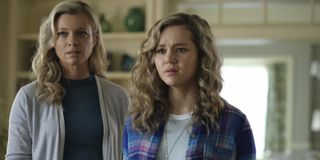 (Image credit: The CW)
Spoilers ahead for Episode 11 of Stargirl Season 1, called "Shining Knight."
Stargirl launched back in May as the latest live-action superhero series based on DC Comics characters, with episodes releasing first on DC Universe before broadcasting on The CW. Centered on high schooler Courtney Whitmore as she becomes the titular Stargirl, the show features a cast a teen friends, meddling parental figures, and villains in the mix in Blue Valley. Before premiering, it looked like it ticked all the boxes for a superhero show, and not much more. I just didn't think Stargirl could be all that interesting, and the premise didn't seem sustainable. Well, after eleven episodes, I'm ready to officially declare that I am proven wrong.
First, I want to really establish why Stargirl winning me over this fully is no small feat. I was initiated into live-action superhero TV via the early seasons of Arrow, and I remained an Arrow loyalist through the good, the bad, and the buckled until the show wrapped in early 2020. Gritty adult superheroes without superpowers are right up my alley. If there's a comic book hero who lurks on dark rooftops without magic or meta abilities to make it easy, I'm probably be on board.
Generally-speaking, give me the Green Arrow of the Arrowverse or Sara Lance of Legends of Tomorrow or any member of the Bat-family doing practical stunts over The Flash zipping though Central City or Supergirl using heat vision. So, even I'm surprised by how much I'm enjoying the special effects-heavy Stargirl, and I finally figured out why when it's so different from my preferred kinds of heroes with "Shining Knight."
As much as Stargirl is named for Courtney Whitmore, the show isn't just about her, and the supporting cast is rich and varied enough that I truly think there could be something for everybody to enjoy in the show. My biggest fear was that I wouldn't be able to take a live-action show about teen superheroes centered in one place seriously, but Stargirl hasn't let Courtney and Co. skate by with the adults and bad guys conveniently looking in the other direction.
Pat has known about Courtney as Stargirl, and he voiced the realistic concerns about what Courtney was doing before I could be frustrated by them. He had every right to want to tell Barbara the truth, and the scene between Barbara and Pat after she found out about Stargirl was actually one of my favorites of the season. Barbara cut through all of the powers and the super-lore and spectacle and simply demanded to know if he had lied to her about Courtney's very serious injuries.
Barbara has been a great surprise all around in the last few episodes. She wasted no time in wanting to protect her daughter and push away Pat, but that didn't mean she wasn't listening to them or paying attention to the shadiness around her. The status quo of the good guys of Stargirl isn't Courtney and her gang of pals fighting bad guys without any adults realizing something is up; the status quo includes adults in on the secrets without preventing the heroics.
Stargirl also headed off my potential objections that Stargirl is super recognizable as Courtney in her costume (that did involve some wardrobe malfunctions on set) with her curly hair loose by going ahead and letting a supervillain in on her secret identity. And I love how Stargirl is handling the teens. They look and act like teens far more than anybody who has even crossed the threshold of Riverdale's high school, and their interpersonal dramas feel like the world to them... until they're faced with larger problems.
There's an earnestness to Stargirl that's very endearing, and characters are fleshed out to the point that they and their dynamics feel realistic, even when it situations are fantastical. At this point, I care far more about the Whitmore/Dugan family than whatever the bad guys are planning for half the country, but that's not a bad thing. It just goes to show that Stargirl is nailing the characterization, and what is a superhero show without some engaging characters?
Plus, Stargirl already killed off a teen, so even my dormant Arrow instincts can't complain that the show is afraid to get dark. Stargirl is a well-balanced superhero show that doesn't preach, doesn't rely too heavily on one element, and built a world different and distinct enough from the Arrowverse that I for one think it stands alone just fine. The powers don't make the characters overpowered or allow them to win every fight without breaking much of a sweat, which is generally my issue with superpowers in TV and movies.
All things considered, I will happily admit that I was wrong about Stargirl, and I'm only sad that the first season only has two more episodes. The good news is that Stargirl has already been renewed for Season 2, with at least one big change. The final episodes of Stargirl will release streaming on the next two Mondays at 9 a.m. ET on DC Universe and air on the next two Tuesdays at 8 p.m. ET on The CW. For more viewing options now and in the coming weeks, check out our 2020 summer TV premiere schedule!
Your Daily Blend of Entertainment News
Laura turned a lifelong love of television into a valid reason to write and think about TV on a daily basis. She's not a doctor, lawyer, or detective, but watches a lot of them in primetime. Resident of One Chicago, the galaxy far, far away, and Northeast Ohio. Will not time travel, but will sneak references to The X-Files into daily conversation.