Arrow-verse Creator Tells Fans To Calm Down After Threats Were Sent To Actor Who Killed Oliver Queen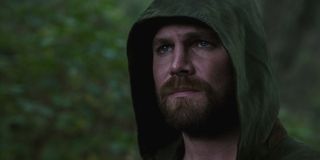 With the five-episode "Crisis on Infinite Earths" over and Arrow's series finale having aired, Stephen Amell's Oliver Queen can now enjoy his afterlife knowing that his sacrifice to help save the multiverse wasn't in vain. Unfortunately, the character's death made some fans very unhappy to the point where they were sending threatening online comments to LaMonica Garrett, the actor who played The Monitor in the episode that resulted in the notable recent death. Now, Arrow-verse co-creator Marc Guggenheim has a message for those who have been sending LaMonica Garrett threats over The Monitor killing Oliver.
Way back during the "Elseworlds" crossover, Oliver Queen made a deal with The Monitor. He would do the being's bidding and die during "Crisis on Infinite Earths" when the time came. Yes, Oliver did die (twice), but that wasn't LaMonica Garrett's fault, right? Some didn't see it that way, apparently. A few days ago, Garrett posted a screenshot of his Instagram DMs on Twitter as proof of the hate being hurled his way. Marc Guggenheim stepped in to make it clear that he feels these threats are not appropriate. Here's what he wrote on Twitter:
It should be an obvious lesson that an actor is not the character they play on TV, but from the looks of things, there are some who have difficulty separating fiction from reality. Unfortunately, LaMonica Garrett isn't the first Arrow-verse actor to receive hate from the fanbase, but Marc Guggenheim coming to his defense might hopefully help dissuade others from sending the actor similar messages.
LaMonica Garrett previously revealed that joining the Arrow-verse was "intimidating" because he was still a new character during the "Elseworlds" crossover. It's unfortunate to have to wonder if he might feel unwelcome now because certain fans are displeased with something a fictional character did as part of a story. Personally, I think he did a great job portraying both The Monitor and The Anti-Monitor.
Either way, it's like Marc Guggenheim said, LaMonica Garrett is an actor at the end of the day and none of what his character does is his personal fault. Besides, Arrow's season finale gave Oliver something akin to a happy ending and he's kicking it in the afterlife with Felicity. I doubt he's angry at The Monitor for that.
While Arrow ended its eight-season run recently, there are still plenty over at the CW to enjoy. The Flash -- which is set to change one character's life forever --and Legends of Tomorrow air new episodes every Tuesday at 8 p.m. and 9 p.m. ET, respectively, while Black Lightning airs on Mondays, and Supergirl and Batwoman dominate Sunday nights. For more on what to watch, be sure to check out our midseason schedule for updated premiere dates and times.
Your Daily Blend of Entertainment News
Thank you for signing up to CinemaBlend. You will receive a verification email shortly.
There was a problem. Please refresh the page and try again.