Stargirl Actress Talks The Aftermath Of The Bloody Cliffhanger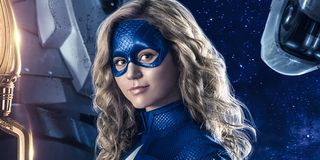 Spoilers ahead for Stargirl's Season 1 episode, "Shiv Part One."
After the new Justice Society of America attempted to take on Sportsmaster, Tigress, and the Gambler, they quickly realized they were in over their heads. Pat, now reluctantly on board with the teenagers' new superhero status, stressed that they needed training first if they were to work better as a team. However, Season 1's "Shiv Part One" took a bloody turn and Stargirl actress Yvette Monreal recently discussed the aftermath of that shocking cliffhanger.
Brec Bassinger's Courtney is no longer a lone wolf and has gained quite a few friends — Yolanda (Wildcat), Beth (Dr. Mid-Nite), and Rick (Hourman) — over the last seven episodes of Stargirl. However, she's still used to operating on her own, impatient about the fact that her friends are behind in training when she's already taken on villains like Brainwave and won. But Courtney does have a tendency to run head first into situations without thinking things through.
Such was the case when she decided to go snooping in the Injustice Society's secret hideout and ended up in a fight with Cindy Burman, the daughter of the supervillain Dragon King. Suffice it to say that things did not end well for Courtney, and Cindy beat her up until she was bloody and unconscious. Yvette Monreal's Yolanda won't be pleased about that. Here's what Monreal revealed to CBR.com about the aftermath of Courtney's fight:
Courtney is honestly lucky to have gained such loyal friends who will have her back no matter what. Any enemy of Courtney's is an enemy of the JSA, after all. The fact that the enemy is Cindy makes things even more personal as she's the resident mean girl at school who's made Yolanda's life a living hell in particular. Yolanda will no doubt have her Wildcat claws out in defense of Courtney, that's for sure.
Yvette Monreal also teased that her favorite moment from Stargirl so far doesn't happen until the Season 1 finale. Monreal described it as a very "unexpected moment" for Yolanda and that she couldn't wait for fans to see it. That's definitely a great way to hype the season finale and keep fans on their toes. I know I'll be watching.
New episodes of Stargirl Season 1 air Tuesday nights at 8:00 p.m. ET on The CW. The series also airs concurrently on DC Universe, with episodes airing there on Mondays. For more on what to watch in the coming months, be sure to check out our 2020 summer TV premiere schedule.
Your Daily Blend of Entertainment News