Ellen Degeneres Show Vet DJ Tony Shares Thoughts About 'Toxicity' While Working There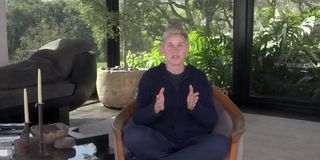 The Ellen DeGeneres Show has been mired in a lot of controversy over the last few months. Current and former employees of the long-running talk show have accused executive producers and senior managers of creating a toxic workplace culture, with several employees also reported claims of sexual misconduct and harassment. Now, The Ellen DeGeneres Show vet DJ Tony has come forward, sharing his thoughts regarding the "toxicity" while working there.
Tony Okungbowa, AKA DJ Tony, was a staple of The Ellen DeGeneres Show on and off for eight or nine years, all things told. In an Instagram post, he shared a photo of himself DJing with a smile while on the talk show, but included a caption that addressed the recent allegations of the show enforcing a toxic work culture. Here's what Okungbowa wrote:
DJ Tony Okungbowa didn't offer any further details regarding the "toxicity of the environment" from his years on the show, or what all that might entail. He also avoided admitting whether he had any personal experience dealing with overly negative behavior directly. However, while he was very "grateful" to have worked there, DJ Tony made his stance clear in standing with his former colleagues.
Since the allegations have surfaced, the folks at Warner Bros. Television have launched an investigation into the show, with Ellen DeGeneres breaking her silence about the claims as well. She penned a letter to staff and stated that she is "committed to ensuring this does not happen again," though not everyone has been convinced.
While the harassment complaints related to the talk show were not directly accusatory of Ellen DeGeneres herself, some celebs have used the opportunity to imply she's been aware of everything that's gone on. Actress and director Lea Thompson commented agreeably on Everybody Loves Raymond vet Brad Garrett's tweet, which cited that the alleged mistreatment on DeGeneres' show was "common knowledge."
That, in turn, led record executive Scooter Braun and other celebrities (Katy Perry, Kevin Hart, Diane Keaton among them) to publicly defend the talk show host, commenting on Ellen DeGeneres' positive qualities and how kindly she's always treated them. (It should be noted that few of the major complaints referred to how she treated other celebrities.) Portia de Rossi also took to social media in support of her wife, posting an "I Stand By Ellen" photo to Instagram. De Rossi thanked fans who have been supportive of DeGeneres and her talk show.
Amidst the allegations and investigation, some began to wonder what the future will hold for The Ellen DeGeneres Show, or if it will indeed have a future. That said, one of the show's producers was quick to shoot down any cancellation rumors and so it seems like the talk show still has a future for now. While waiting to hear more, you can check out DJ Tony's full post below.
Stay tuned to CinemaBlend for more on the allegations and the ongoing investigation. In the meantime, be sure to check out our 2020 fall TV premiere schedule.
Your Daily Blend of Entertainment News
Thank you for signing up to CinemaBlend. You will receive a verification email shortly.
There was a problem. Please refresh the page and try again.