America's Got Talent Adds American Idol Champ To Fill In For Simon Cowell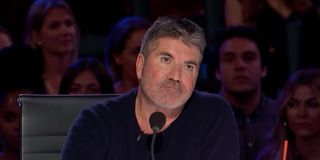 America's Got Talent is primed to resume production on its live shows this week, but Simon Cowell will be noticeably absent during the first couple of episodes. To put it bluntly, the long-time judge broke his back and needed to have surgery. However, don't expect his seat to be empty when America's Got Talent returns. The NBC series has tapped American Idol champion, talk show host, and Voice coach Kelly Clarkson to fill in for Cowell in his absence.
Simon Cowell's unfortunate accident on his electric trail bike led to a five-hour surgery to fix up his broken body parts, but he's reportedly doing well in the aftermath. That said, he'll obviously have to miss some of America's Got Talent's live shows while he heals up. And who better than Kelly Clarkson to fill in for him? Clarkson took to Twitter to officially announce the news in the style of a memo. Here's what it read:
Kelly Clarkson's temporary addition to America's Got Talent is an admittedly fun change of pace, despite the ill-fated reasons behind why she's filling in. She and Simon Cowell go wayyy back to their American Idol days and it's interesting to see how the (judges') tables have turned. Plus, it'll be fun to see how she interacts with the rest of the current America's Got Talent team, which include Heidi Klum, Sofia Vergara, and Howie Mandell.
Kelly Clarkson obviously isn't new to the world of competition shows. Besides winning American Idol in 2002, the singer has served as a coach for several seasons of The Voice and is set to return to the reality series for Season 19 when it returns this fall. Her filling in for Simon Cowell should be enjoyable as Clarkson always brings a lot of heart to her projects.
That said, there's no telling whether Kelly Clarkson is only filling in for Cowell this week or if it will last longer. I suppose it all depends on when the judge will be able to return to work following his surgery, since one would think "having a broken back" might cause more than just a week off of work. If he isn't able to come back soon, I'm sure Clarkson will carry on in his stead, or maybe AGT will bring in another celeb to sub in. Clarkson is also busy filming The Kelly Clarkson Show, after all.
America's Got Talent will probably be able to accommodate Simon Cowell when he does make it back to the series. The NBC show has already made some changes to its production in Season 15, primarily to maintain social distancing practices and ensure other safety measures. Regardless of when Cowell returns, we're glad that his surgery was successful and his back is healing.
America's Got Talent Season 15 goes live on August 11 and 12 at 8:00 p.m. ET on NBC. For more on what to watch, be sure to check out our 2020 fall TV premiere guide.
Your Daily Blend of Entertainment News
Your Daily Blend of Entertainment News
Thank you for signing up to CinemaBlend. You will receive a verification email shortly.
There was a problem. Please refresh the page and try again.