The Voice Is Bringing Gwen Stefani Back For Season 19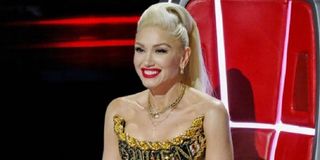 Season 18 of The Voice faced a unique situation. Even with a shortened season, limited live shows, and remote episodes, the series managed to get through the quick changes to crown Todd Tilghman the winner. NBC recently unveiled their fall TV line-up and there are a couple more changes ahead for the series, with the biggest one being that Gwen Stefani is returning to The Voice in Season 19.
Gwen Stefani's return to The Voice is an exciting, albeit surprising, announcement. The singer left the reality show after Season 17, with Nick Jonas stepping in to assume full-time coaching duties in Season 18. Jonas had previously been a mentor during Season 8 of The Voice before being promoted to coach in Season 17. Jonas is out for Season 19, swapping places with Stefani. The former No Doubt singer will rejoin coaches Kelly Clarkson, John Legend, and Blake Shelton.
The Voice has been shuffling coaches around since its inception. After 18 seasons, the competition show has seen a multitude of coaches come and go, including Christina Aguilera, Alicia Keys, Pharrell Williams, Jennifer Hudson, Shakira, and Adam Levine, who famously quit the series ahead of Season 17.
Season 19 will mark Gwen Stefani's fifth season as a full-time coach. She made her debut on The Voice back in its seventh season and has since appeared as a coach in Season 9, Season 12, and Season 17. The singer also served as a mentor in Season 8 and Season 10. However, Season 19 will see her back in a cushy red chair, with the power of the big red button at her fingertips.
While Gwen Stefani was not a part of The Voice's Season 18, Blake Shelton mentioned her quite often, joking about her absence. It's cute that Shelton missed seeing his girlfriend on the show and their interactions were always very playful and entertaining. Now that she'll be back for Season 19, I'm guessing Shelton is beyond thrilled by the news. Let the cute interaction resume!
Gwen Stefani initially left The Voice after Season 17 to focus on her Las Vegas residency. Nick Jonas took her spot for one season and did pretty well, with the artist he coached, Thunderstorm Artis, placing third in the competition. As of this writing, there's no word on why Jonas stepped down ahead of Season 19. That said, there's always a chance he could return to The Voice in future seasons.
The Voice Season 19 is currently scheduled to premiere on NBC at some point his fall. Stay tuned to CinemaBlend for updates. In the meantime, be sure to check out our 2020 summer TV premiere guide for more on what to watch.
Your Daily Blend of Entertainment News