His Dark Materials Season 2: 6 Questions We Have After The Trailer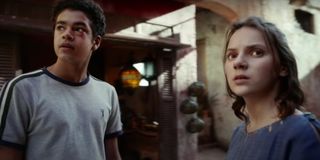 HBO has another clever, innovative, and highly addictive fantasy series on its hands with His Dark Materials. The series follows Lyra Belacqua (Dafne Keen) as she tries to uncover who has kidnapped her best friend Roger (Lewin Lloyd) and other local children. Lyra's quest leads to deeper discoveries like the true identity of her parents, the many secrets of her uncle, Lord Asriel (James McAvoy), and more of the mystery behind the mystical substance called Dust.
Like many great fantasy series His Dark Materials is based on a book series, this time it's Philip Pullman's popular book series of the same name. The first season followed the events of Northern Lights (known as The Golden Compass in North America) and some parts of the second book The Subtle Knife. Season 2 is set to follow The Subtle Knife storyline. Recently, HBO and BBC released the first trailer for Season 2. Fans of the book series probably recognized many elements of The Subtle Knife in the trailer, but for others (like me) who haven't read the books yet, we have a lot of questions.
Warning: Spoilers ahead about His Dark Materials Season 1.
What Are The New Worlds That Lyra And Will Enter?
At the end of the first season of His Dark Materials Season 1, Lyra and Will Parry (Amir Wilson) both go through a portal that will lead them out of their worlds and into a completely new one. The trailer shows more of this new world. In Season 2, we'll definitely get introduced to the city of Cittagazze, and all the things that come with that dimension. One thing that we get a glimpse of in the trailer, and Lyra and Will will find in Cittagazze, is the Spectres, ghostly creatures who feed on adult Dust.
Cittagazze may be the only new world we encounter in Season 2 of His Dark Materials or the show may jump a bit ahead of the second book again and introduce other worlds. With so much to pack into seven episodes, I doubt this season will travel much beyond Cittagazze, Will's world, and Lyra's world, but I'm more confident that Season 2 will start establishing the foundation for us to see other worlds in the future.
What Happens When The Magisterium Takes Control?
His Dark Materials Season 1 introduced us to the Magisterium, and they were involved in all kinds of questionable activity in a plot to control society. The Magisterium was mentioned and seen throughout Season 1, but they didn't play a huge physical role in the season. They were definitely shown as being a powerful force and organization, but not seen scheming and plotting at every corner.
In the His Dark Materials Season 2 trailer, we hear and see a meeting of the Magisterium, where it is stated that they must now step in and control things. Something tells me that more control for the Magisterium is not good, not good at all. We'll see how that control and ultimate power presents itself in Season 2.
Who Are The New Characters?
The season two His Dark Materials trailer showed quite a few new characters, including Andrew Scott's John Parry. John was mentioned in Season 1, and Lord Boreal (Ariyon Bakare) is in Will's world looking for any info he can find on him, but we only see him through pictures in the first season. In the His Dark Materials Season 2 trailer, John is seen with Lee Scoresby (played by Lin Manuel-Miranda) in his balloon.
Along with John, we see some new witches, including witch queen Ruta Skadi (Jade Anouka). I'm assuming Serafina Pekkala (Ruta Gedmintas), and other witches, have an even bigger role in Season 2. We also see Dr. Mary Malone (Simone Kirby) in the trailer, who has an important role in Season 2 and beyond. We'll also get a whole new batch of actors voicing daemons, including Phoebe Waller-Bridge, who will be voicing Andrew Scott's daemon.
What's The Knife That John Parry Holds?
In the His Dark Materials Season 2 trailer, John holds up a knife and says it can cut between worlds. In Season 1, Lyra is given an alethiometer and she's able to use it to learn the truth. So we've seen these important magical objects in Season 1, and it seems like we'll get more of them in Season 2. The knife seen with Parry could be something that Will later inherits, like Lyra with the alethiometer.
We see a clip of Will in a battle with Lord Boreal, and it's likely that knife plays a part in this fight. Since the second book is called The Subtle Knife, contextual hints tells me that John Perry's knife might be the subtle knife the title references.
How Do John Parry And Lee Scoresby Meet?
At the end of Season 1, Lee learns that Lyra is okay, but his next mission is just beginning. It appears that his new mission involves helping Will's dad, John Parry. It seems like a big part of John and Lee's storyline going into the second season involves each other. My guess is that Lee is sent to find him, and they spend Season 2 trying to help and find Lyra and Will.
The first season established that Lee feels a sort-of fatherly love towards Lyra, and John being Will's actual father, it makes sense that they would join forces to help these children that they love so dearly.
We also see images in the trailer of Lee beat up, so it's likely that somewhere on their journey, they face a dangerous foe. We also see Will pretty beat up (presumably) from his battle with Lord Boreal. It's possible that Lee and John also end up in that fight and take just as much of a beating from Lord Boreal.
What Happens In The Battle Between Will And Lord Boreal?
Speaking of this potentially epic battle, we know nothing about it, but it's one of the most eye-catching things about the trailer. Lord Boreal is not holding back, and it seems like Will doesn't stand a chance. We see Will (thankfully still alive) in a bath with a bunch of scars later in the trailer, which seems to imply that he survives the battle. There are so many questions I still have about it, like how did Lord Boreal even find him? Where is Lyra when this is all going down? Will both Will and Lord Boreal survive it? How early does the fight happen in the season?
I can't wait to see the battle and what it will mean for Will going forward.
Luckily for His Dark Materials fans, the series filmed all seven episodes before Christmas 2019. There was one episode that had to be let go due to COVID-19 production shutdowns, but it was a standalone episode with James McAvoy, so we should still get a complete story when the series returns. Right now, no official return date has been set, but Radio Times, believes that it'll return in November 2020.
Whenever it returns, we cannot wait to get answers to these questions and more in His Dark Materials Season 2.
Spent most of my life in various parts of Illinois, including attending college in Evanston. I have been a life long lover of pop culture, especially television, turned that passion into writing about all things entertainment related. When I'm not writing about pop culture, I can be found channeling Gordon Ramsay by kicking people out the kitchen.
Your Daily Blend of Entertainment News
Thank you for signing up to CinemaBlend. You will receive a verification email shortly.
There was a problem. Please refresh the page and try again.