Multiple All Rise Writers Quit Following Dispute Over CBS Show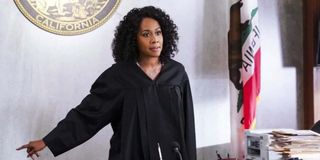 Just a month after Magnum P.I. and MacGyver boss Peter Lenkov was fired in July after an investigation into complaints of abusive and manipulative behavior within the allegedly toxic workplace environment, CBS is facing another round of controversy. The network's legal drama All Rise is also facing behind-the-scenes issues after multiple writers quit following disputes with series showrunner Greg Spottiswood.
All Rise is led by Luke Cage alum Simone Missick and consists of a fairly diverse cast (especially for CBS). The show was renewed for Season 2 in May, but there have been reports of behind-the-scenes contention that started back to the early days of its first season. Now, according to the New York Times, five of the seven original writers have departed All Rise ahead of its second season after allegedly clashing with Greg Spottiswood over depictions of race and gender in scripts and storylines.
Three of the five writers who departed were the series' highest-ranking writers of color. (For reference, Spottiswood is white.) Now-former All Rise scribe Shernold Edwards said that she and others allegedly had to do "so much behind the scenes to keep these scripts from being racist and offensive."
Shernold Edwards also claims that some of the dialogue and storylines meant for Simone Missick's character did not accurately reflect what a Black woman might say and, on occasion, were outwardly offensive and stereotypical. Edwards, who left the show last November, alleged that when she brought up these issues to higher-ups, she was asked why the race of the character mattered. In an email to the All Rise producers, Edwards wrote:
Meanwhile, writer and executive producer Sunil Nayar also reportedly clashed with Greg Spottiswood. Nayar allegedly wanted the show to more accurately represent people of color's experiences onscreen, but says he felt like Spottiswood only hired him as a token minority. What's more, Nayar and Edwards both claim that the issues became already noticeable around the writing of Season 1's second episode.
On a couple of occasions, a few of the All Rise cast allegedly brought up issues with certain aspects of the scripts. For one episode, Sunil Nayar wrote a scene that involved two of the show's Black characters discussing racist policing, but the scene was allegedly cut by Greg Spottiswood as he cited that the incident was too common for the characters to discuss. However, it was written back in after Simone Missick reportedly complained about the scene being removed, claiming that her character would be remiss not to mention the incident.
Last fall, the Warner Bros.' human resources department conducted a review of the work environment after complaints were lodged against Greg Spottiswood. Following the review, the execs at Warner Bros. assigned Spottiswood a corporate coach to assist him in leadership coaching and more. Per a statement from Warner Bros., the review findings didn't warrant firing Spottiswood from his position as showrunner and executive producer. With regards to the writers' departures, here's what the statement read (via TVLine):
It's unclear how the writer exodus will affect All Rise headed into Season 2, and whether there will be new writers hired. As always, stay tuned to CinemaBlend for updates, and keep current with our Fall TV 2020 premiere schedule to see what's coming to primetime soon.
Your Daily Blend of Entertainment News
Your Daily Blend of Entertainment News
Thank you for signing up to CinemaBlend. You will receive a verification email shortly.
There was a problem. Please refresh the page and try again.