11 Awesome POC Side Characters From Movies Who Deserve Their Own Spinoff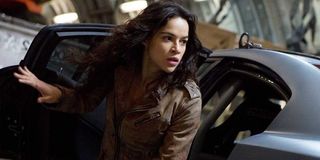 In 2014, Sam Wilson, played by Anthony Mackie, was brought into the MCU as a supporting character to Chris Evans' Steve Rogers in Captain America: The Winter Soldier and now he is sharing the spotlight with Sebastian Stan in the hotly anticipated Disney+ series The Falcon and the Winter Soldier. Last year saw a similar occurrence on the big screen when Dwayne Johnson and Jason Statham reprised their Fast and Furious franchise roles as the title characters of Hobbs & Shaw, an over-the-top action spinoff to the over-the-top action series.
This hit movie and soon to be hit series (most likely) are proof that the rare sight of characters who are not the main hero earning a promotion from second banana to first has become much less rare. Furthermore, many of these spin-off stars have also happened to be people of color, such as the aforementioned Anthony Mackie and the half-black, half-Samoan Dwayne Johnson. This only begs the question of whom from these beloved side characters we can expect to receive the same treatment next.
Well, it just so happens that 11 sidekicks, comic reliefs, and even a few villains (all of whom are also people of color) came to our minds. While there is no telling the chances of when (or, better yet, if) these spin-off movies (or series) could see the light of day, is it still a fun concept to dream up. Plus, it never hurts to give the people in charge a few ideas.
Rod Williams (Lil Rey Howery) - Get Out
In retrospect, I think we can all agree the true hero of Jordan Peele's Get Out is Rod Williams, the loyal best friend of Daniel Kaluuya's protagonist Chris Washington. Not only does this proud TSA agent, played by comedian Lil Rel Howery, come through for his buddy in the end, but Chris may not have come within inches of falling prey to his monstrously racist potential in-laws had he listened to him in the first place. Plus, Rod was easily the funniest element of the poignant, Academy Award-winning thriller (especially when laughs were needed), and to bring his wit and unique detective skills to a film of his own would be a welcome sight.
Domino (Zazie Beetz) - Deadpool 2
Speaking of real heroes, Ryan Reynolds' "Merc with a Mouth" would almost literally be scraps on the side of the road if not for Domino, who was also the only other member of the newly formed X-Force to survive a brutal windstorm at the top of their inaugural mission. While the genuinely lucky lady was never drawn as a specific ethnicity in the comics, half-black and German-born Atlanta star Zazie Beetz made the mutant mercenary her own in Deadpool 2, practically running away with the show despite coming in at the halfway point. Domino already has the fans and an X-Force centered movie was a hot topic at one time, so why not just give her top billing instead?
Poe Dameron (Oscar Isaac) - The Star Wars Saga
Here, we make the transition from talk of the X-Force to the X-Wing, particularly the most talented man in the Rebel Alliance behind the wheel of one, that is. Latino actor Oscar Isaac had already received much praise for his work in indie flicks like Drive or as the title character of the Coen Brothers' love letter to folk music Inside Llewyn Davis before playing Poe Dameron in J.J. Abrams' Star Wars: The Force Awakens made him a bonafide movie star. The brazen pilot and charming hero would remain an exciting element of the saga's more recent entries and, given how little we still really know about him, I believe this is a Star Wars character who could inspire a prequel with some purpose, for once.
O-Ren Ishii (Lucy Liu) - Kill Bill Vol. 1
Speaking of prequels with purpose, is there a single fan of the Kill Bill movies who did not want to see more from O-Ren Ishii's past after that Japanese anime style interlude explaining her origin? For how memorable Uma Thurman was as The Bride, the vengeful hero of Quentin Tarantino's two-part revenge epic, Lucy Liu's fierce, MTV Movie Award-winning performance as her half-Chinese, half-Japanese-American former colleague turned adversary (and Yakuza leader) is key to Kill Bill Vol. 1's lasting iconography almost two decades later. Whether it would be live-action or anime, one movie or a whole series, a spin-off depicting Oren's glory days as one of the world's top assassins would be a dream come true.
Lucius Best/Frozone (Samuel L. Jackson) - The Incredibles
Speaking of glory days, we caught a glimpse of Nick Fury prior to his promotion at S.H.I.E.L.D., courtesy of a de-aged Samuel L. Jackson in Captain Marvel, and it looks that may be the extent of the character's origins we are bound to see in the MCU. Yet, it might actually be even more fun to see Lucius Best, Jackson's animated role from The Incredibles movies, giving evil the cold shoulder when it was still legal for super-powered vigilantes to do so as Frozone. After two movies with Bob (Craig T. Nelson), Helen (Holly Hunter), and the rest of the Parr clan in the spotlight, it is about time Pixar gives their most memorable scene stealer his own adventure and, perhaps, finally give his wife, Honey, a proper introduction.
Letty Ortiz (Michelle Rodriguez) - Fast And Furious Franchise
Another beloved character originating from a group of heroic outlaws is Leticia Ortiz, or "Letty" for short, who has, arguably, had it the worst of anyone in the Fast of Furious cast. From being assumed as murdered by a deadly explosion that actually gave her severe amnesia to watching her own husband, Dominic Toretto (Vin Diesel), blackmailed into working against their close-knit crew, I would not be surprised if things actually went better for her if she went solo for a bit. If Hobbs & Shaw is any indication that a spin-off from this high-octane action franchise can work, Michelle Rodruiguez's nearly two decades as the fearless street racer should be more than enough evidence that she deserves to be the next one in line, which even Diesel seems to agree with.
Amanda Waller (Viola Davis) - Suicide Squad
On a similar note, I am surprised that no one questioned the absence of Amanda Waller in Harley Quinn: Birds of Prey, a female-driven spin-off from Suicide Squad that put Margot Robbie and a group of overlooked DC heroines in the spotlight. Other than the fact that the Task Force X founder has no canonical affiliation with the Birds of Prey and Harley probably hates her guts for putting an explosive in her head, Viola Davis' irresistible deviousness in that role deserves more attention. Of course, the Oscar-winner is set to reprise the character for James Gunn's rebootquel(?), but it might be a real treat to see the inner workings of "The Wall's" corrupt world in a more centralized, in-depth setting that does without the distraction of costumed anti-heroes.
Lo Pan (James Hong) - Big Trouble In Little China
Amanda Waller is not the only antagonistic character we would love to see as the star of the show. Even if you do not know prolific actor James Hong by his real name, he is unmistakable as Lo Pan, an ancient sorcerer who creates problems in San Francisco's Chinatown in hopes of regaining human form to rule the universe in Big Trouble in Little China. Instead of a sequel or remake of this darkly comic, supernatural kung-fu extravaganza from director John Carpenter, I would rather see a prequel that shows us how Lo Pan went from a fierce warrior to a vengeful wizard, only to fall prey to Kurt Russell's bumbling trucker Jack Burton.
Luis (Michael Peña) - Marvel Cinematic Universe
Even more surprising than the means of Lo Pan's eventual defeat is how pivotal Luis was to Scott Lang's heroic evolution, as he was able to pass on the message that he was needed for Steve Roger's team in Captain America: Civil War. Of any comic relief you can still name from the Marvel Cinematic Universe, Ant-Man's fast-talking thief, played brilliantly by Michael Peña, is, without question, the most memorable and consistently hilarious. Fans even requested that Avengers: Endgame begin with his own dazzling, tangent-filled recap, which could totally be a reality in his own film about… I dunno, maybe working his way up in the security field?
Sofia Al-Azwar (Halle Berry) - John Wick: Chapter 3 - Parabellum
Fans of the ongoing John Wick franchise would probably have no trouble figuring out what might be in store for if Sofia Al-Azwar got her own spin-off movie. The Casablanca Continental hotel manager, played by Academy Award-winner Halle Berry, made a brief, but exciting appearance in the Keanu Reeves-led action series, without much else learned about her than having a past with John and her impeccable combat skills. So, there is also a pretty good chance that assassination is in her resume and, quite frankly, I would love to see more from that side of her in a potential prequel, if not just to see Berry have another hit.
Short Round (Ke Huy Quan) - Indiana Jones And The Temple Of Doom
Even with the disappointment of Indiana Jones and the Kingdom of the Crystal Skull, the second film from Steven Spielberg and George Lucas' iconic series is not without its controversy either. This is due, in part, to Short Round, the young, orphaned sidekick of Harrison Ford's archeologist played by Ke Huy Quan, and I truly fail to understand to why because he is a badass and the one responsible for Indiana Jones and the Temple of Doom having a happy conclusion. You can tell me all day that you find the kid obnoxious, and I will continue to fight that until a grown-up Short Round (either reprised by Quan or recast with, say, The Walking Dead's Steven Yeun) gets his own adventure, which I would rather see than a fifth Indiana Jones movie, to be honest.
What do you think? Do you agree that these supporting players are most deserving of a little more support or did we unwittingly leave out a few others who have gone unjustly overlooked long enough? Let us know in the comments and be sure to check back for additional information and updates on characters from a minority demographic who are taking Hollywood by storm, as well as more articles that acknowledge the unsung heroes of movies and TV shows, here on CinemaBlend.
Jason has been writing since he was able to pick up a washable marker, with which he wrote his debut illustrated children's story, later transitioning to a short-lived comic book series and (very) amateur filmmaking before finally settling on pursuing a career in writing about movies in lieu of making them. Look for his name in just about any article related to Batman.
Your Daily Blend of Entertainment News
Thank you for signing up to CinemaBlend. You will receive a verification email shortly.
There was a problem. Please refresh the page and try again.