Javicia Leslie: 6 Cool Things To Know About The CW's New Batwoman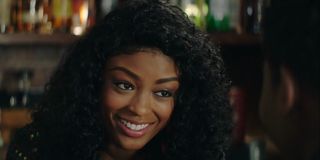 You should probably get used to hearing the name Javicia Leslie because as the new star of The CW's Batwoman, you're going to see and hear a lot more from her. Leslie may seem like someone who appeared out of thin air to gain this coveted, high profile role. She may still be a newcomer by Hollywood's standards, but Javicia Leslie has been carving her place in the acting world for years.
Javicia Leslie was a military brat, born in Germany, but grew up in Marlboro, Maryland, and then lived a few other places before transitioning to life in Los Angeles in 2012. Like many, Javicia dreamed of taking on a bunch of different careers as an actress. And soon, she'll get to become Ryan Wilder, a character described as "likable and goofy but also messy and untamed." This will be Leslie's biggest role yet, and one that will likely gain her even more fans and admirers.
Before Leslie puts on the bat mask, get to know the former God Friended Me star.
She Has A Diverse Acting Portfolio
Javicia Leslie's biggest role came in 2018 as Ali Finer, the sister of main character Miles Finer (Brandon Micheal Hall). Ali acted as a guide to Miles as he dealt with this mysterious God account that sent him people to help. She appeared on God Friended Me until it was recently canceled by CBS. In an interview with MIC, Leslie mentioned how a webseries called Chef Julian was one of her first gigs and gained her a fan base.
She played main character Julian (Courtney Burrell)'s ex-girlfriend Monisha. Her next big gig was as recurring character Jesse Colton on CBS's MacGyver reboot. While filming God Friended Me, she also worked on the series The Family Business, a show about a black crime family masquerading as a respectable car dealership family.
In 2019, she appeared in the lead role of Always a Bridesmaid, a romantic comedy written by Community's Yvette Nicole Brown. She also had a lead role in the Lifetime movie Swim at Your Own Risk.
She's A Member Of The LGBTQ Community
When Javicia Leslie was announced as the new Batwoman, she released a statement to go along with the casting reveal. She states:
In many interviews, Javicia Leslie doesn't talk about her sexuality, but she has mentioned her boyfriend. In an interview with CBS New York, she mentioned that her boyfriend was a member of the musical duo Jake & Papa. She also mentioned in the State of RE podcast with FoReal Khalil and Professor DEAN that they have been in a long term relationship and that he's also a trainer. This news probably crushes the hopes of men and women who have already developed a crush on Javicia Leslie.
She Used To Work For The Government
The desire to act has been something that Javicia Leslie experienced all of her life. She discussed in various interviews how she used to act as a child, and then she acted in college at Hampton University. She joined the acting group the Hampton Players and appeared in two plays, August Wilson's Seven Guitars and Ntozake Shange's For Colored Girls Who Have Considered Suicide / When the Rainbow Is Enuf. Despite her passion for acting, she got a degree in Business Management and took a government job after college.
She worked in DC for two years. Leslie helped soldiers and the family of deceased soldiers receive pay for extended contracts. In an interview with Afterbuzz, she discussed how she had the option to either renew her contract with her government job or take their unemployment pay package. Leslie chose to take the package and move to LA to explore acting.
She's Spiritual
God Friended Me wasn't necessarily a religious series but had religion at the forefront. Javicia Leslie has spoken openly and honestly about her fate, her belief in God and being a Christian. She mentioned how her fate is what has helped her take the leap towards acting. In an interview with Lucire, she shared this about her relationship with God and her acting career:
In the State Of RE Podcast, she also recounted a moment where she felt like God spoke to her, and told her to go pursue her dream of acting. It was that moment that helped her decide not to renew her government contract and move to LA.
She Does Muay Thai
Javicia Leslie is all about staying fit and healthy. Working out and staying active is a major part of her overall health goals. She mentioned in many interviews about being a vegan, now pescatarian vegan, and not eating gluten. She also shared that she likes to work out to stay healthy with her fitness trainer boyfriend.
In the State of RE Podcast, she mentioned how he was into Muay Thai and got her into it as well. She also mentioned how she was very aggressive growing up and used to love getting into fights. She sees Muay Thai as a way to channel that aggression into something more productive. She also posts on her Instagram page her doing a variety of workouts, including Muay Thai.
She Hosts An Annual Charity Event
Javicia Leslie has spoken in the past about her charity organization, The Chandler Foundation. For the foundation, she hosts various charity events, but her main one seems to be a community event that happens around her birthday. On WUSA9, a local CBS affiliate channel in Washington, DC, she spoke about trying to help by organizing community events that give back to families and the youth in D.C.
Her passion for helping others should make her the perfect person to play a TV superhero.
Javicia Leslie will be plenty busy when Batwoman starts filming season two, but she has hopes to eventually start her own Podcast. In a few interviews Leslie spoke about wanting to play roles of badass women like Storm and Lara Croft, so this role is probably a dream come true. Catch Leslie on Batwoman when the show eventually returns to the CW.
Your Daily Blend of Entertainment News
Spent most of my life in various parts of Illinois, including attending college in Evanston. I have been a life long lover of pop culture, especially television, turned that passion into writing about all things entertainment related. When I'm not writing about pop culture, I can be found channeling Gordon Ramsay by kicking people out the kitchen.