When Does The Batman's TV Spinoff Take Place? Here's What Matt Reeves Said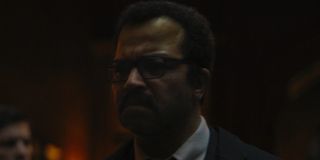 At the end of the day-long DC FanDome event, all eyes were on the first trailer for Matt Reeves' The Batman, and it did not disappoint. Fans have been commenting on the footage, sending hype for the film to a new high. Reeves provided plenty of insight into the movie, but he also shared details on the previously announced spinoff TV series that will focus on the Gotham City Police Department. And based on Reeves' comments, the show could be something totally unique within Batman lore.
Yesterday, it was revealed that The Batman will center on a "Year Two" version of the hero, who is only just beginning his partnership with the GCPD. During last night's live panel, Matt Reeves, who is a producer on the project, explained that the show takes place during "Year One." At this point in time, Batman has only just begun his work in Gotham City and many are still wondering whether or not the vigilante is even real.
What's even more interesting is that the show will be told through the lens of a crooked cop, and the story will essentially be a "battle for his soul." The series will also examine the evolution of the corruption that is present in Gotham City. According to Reeves, this corruption "goes back many years."
Of course, Matt Reeves isn't alone in bringing this corner of his Batman universe to life. The Planet of the Apes director has joined forces with Boardwalk Empire creator Terence Winter, who will produce and write for the show. The Batman's Dylan Clark will also serve as an executive producer.
Reeves definitely has some interesting plans for his The Batman spinoff series. He's made it quite clear that he wants a more grounded take on the character and his world, and having a show centered on police corruption seems like a natural extension of that.
One thing that wasn't immediately clear is whether or not characters from the film will appear on the show. While it would be surprising if Batman himself Robert Pattinson popped in, there could be others. The main candidate would be Jeffrey Wright's Commissioner Gordon, who could (at the very least) appear in a recurring capacity. Characters like John Turturro's Carmine Falcone Peter Sarsgaard's district attorney could also show up.
One thing that's sure to come with this show are comparisons to Fox's Gotham. While there are sure to be some similarities, the aesthetic of Reeves' The Batman would indicate that the series will be a departure from Gotham's tone.
There are still plenty of questions when it comes to this show, and it'll likely be a while before we get more answers. Still, the details that have been shared thus far hint at a fresh and exciting take on this iconic universe. The show doesn't currently have a release date, but it's set to premiere on HBO Max.
So what do you think of The Batman's TV spinoff? Let us know in the comments?
Covering superheroes, sci-fi, comedy, and almost anything else in film and TV. I eat more pizza than the Teenage Mutant Ninja Turtles.
Your Daily Blend of Entertainment News
Thank you for signing up to CinemaBlend. You will receive a verification email shortly.
There was a problem. Please refresh the page and try again.