KFC Is Dropping Its Classic Slogan In A Pretty Awkward Way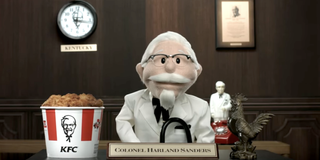 I'm just gonna say it at the top, everyone loves chicken. And, unless something is truly wrong with you, every now and then you like to enjoy yourself a bit of fried chicken. We can argue all day over which fast food joint has the best recipe, but one of the longest standing and (thereby) best known of the bunch has to be KFC. We've all seen the commercials and heard the slogan, but now the restaurant is getting rid of the famous line in a way that can only be described as incredibly awkward.
The famous fried chicken chain has long been known for it's catchy slogan, which boasts that their birds are "finger lickin' good," for as long as most of us can remember. Recently, though, over understandable fears that one's hands are never clean enough for such an activity, those behind the restaurant decided to suspend the slogan. (Thanks for nothing, coronavirus!) While it makes complete sense that the KFC higher-ups wouldn't want to take a chance on possibly encouraging some unsafe behavior right now, it does not appear that they're using the best method to phase the slogan out. Take a look at the new ad which was posted to the brand's U.K. and Ireland YouTube page:
As you can see, thanks to the multiple examples, the slogan now only reads "it's good" due to some very accurate use of an editor's blur button. Sure, it gets the point across for the purposes of explaining why we won't be hearing the popular slogan in any commercials for a while, but the effect is still kinda awkward, especially since I'm not sure what this means when actually ordering from the restaurant.
Here's the (potential) issue; when I leave work tonight and go to KFC for my dinner (Because I'm totally going to KFC for dinner. Lady needs a biscuit and some coleslaw...), what will I see on the packages? Will each location now be blurring out the slogan on their food containers? Are there millions of lowly fry cooks who've now been charged with spending their breaks taking a Sharpie to each chicken bucket to make sure no one sees that "it's finger lickin' good" anytime soon?
Even worse, will my Crispy Colonel Box have a bunch of unsightly duct tape slapped on the side to hide the slogan from my delicate eyeballs? And, if this new, less lickable, slogan lasts for a good while, will they have to keep up the ruse, or actually get new packaging that simply removes it altogether? Honestly, that would be a lot easier and far more professional than the other options.
Meanwhile, the comments on the video are pretty hilarious, as most of the viewers who took the time to speak up all bring up the same thing: If you've just eaten fried chicken with your hands, why wouldn't it then be safe to lick said fingers? Either you've already held and eaten the chicken with gross mitts and are already in danger of catching a wide variety of illnesses (extra finger licking or no), or you remembered to pass your paws through some soap and water for at least 20 seconds beforehand and are good to now suck your fingers to your heart's content.
It would seem to me, and most of those commenters, that the only real issue will be if you eat your chicken and then try to lick someone else's fingers. I mean, again, this video was posted to the U.K. and Ireland KFC page and it's true that I don't know what kind of chicken-eating rituals y'all have over there, but that seems excessive even for people who really love fried chicken.
Well, I suppose time will tell how this whole "it's good" campaign will shake out for KFC, and we'll see if virus cases suddenly go down because of it. I'm not hopeful, but all we can do is try, right?
Be sure to stay tuned to CinemaBlend for all non-finger lickin' news in movies, TV, and pop culture!
Bachelor Nation, Gilmore Girl; will Vulcan nerve pinch pretty much anyone if prompted with cheese...Yes, even Jamie Fraser.
Your Daily Blend of Entertainment News
Thank you for signing up to CinemaBlend. You will receive a verification email shortly.
There was a problem. Please refresh the page and try again.