5 The Stand Questions We Have After CBS All-Access' New Trailer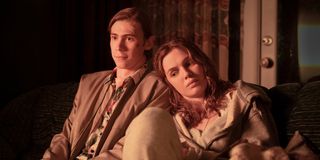 At long last, the first footage from the upcoming adaptation of Stephen King's The Stand is here. With a December release date officially announced last week, the miniseries has dropped its debut trailer online, and though it only clocks in at 30 seconds long, it has successfully gotten our brains whirring in regard to what to expect from the CBS All Access show. There are some things that perfectly line up with moments from the book (such as James Marsden's Stu Redman making his way through a dark CDC facility, and Katherine McNamara's Julie Lawry firing a shotgun at Henry Zaga's Nick Andros and Brad William Henke's Tom Cullen), and other moments that are a bit more mysterious.
It's the parts of the trailer that fall in the latter category that we're focusing in on here today, specifically by addressing the various questions that have been inspired by the footage. And we'll start with the brief shot we see right after the intro featuring Odessa Young's Frannie Goldsmith meeting Whoopi Goldberg's Mother Abagail Freeman...
Will The "Ralph Brentner" Part Change As A Gender-Swapped Role?
Given that the original novel depicts events that take place in a fictional version of the year 1990, The Stand's new adaptation was always going to change certain elements as a means of contemporizing the story, and we've learned about various deviations from the source material over the course of the show's development. One such change we've known to expect is that the role of "Ralph Brentner" is being gender swapped and played by Irene Bedard – who we get to see for the first time in the trailer. However, what we don't know at present is literally anything else about the character.
In the book, Ralph is described as a white, 40-something farmer from Oklahoma, entering the story when he finds Nick Andros and Tom Cullen riding their bikes to Hemingford Home, Nebraska, but it's entirely plausible that just about everything about the character changes with the exception of the story beats in the new miniseries given that the role is now between played by a Native American actress. While it's cool that we now know what Bedard looks like in the part, it's unfortunate that we don't even really know her character's name at this point.
Who Is The Man In The Hospital Bed?
One of the standout moments in the Stand trailer features Jovan Adepo's Larry Underwood and Whoopi Goldberg's Mother Abagail in a hospital room around the bed of a patient in the midst of a freak out – and while it's partially noteworthy because of the drama in the action and reactions, it also draws attention because it doesn't recall any specific sequence from the book. Unless our recollection is mistaken, there isn't a scene where Larry and Mother Abagail are together in this context, and the fact that it's hard to identify the restrained patient makes the puzzle that much more complicated.
Could it be from a dream sequence? Mother Abagail certainly does have a tendency to show up in those. In addition to everything else, it seems weird by itself that the characters are together in what appears to be a functional hospital.
What Is Nick Andros Looking At?
As far as differences between the 2020 and 1994 miniseries versions of The Stand go, one notable aspect revealed in the new trailer is the appearance of Nick Andros. Without getting too far into the details, there is a sequence early in the book that finds Nick getting beaten so savagely that he is left partially blind and forced to wear an eyepatch. This part of the story wasn't included in the previous adaptation featuring Rob Lowe, but it will be a part of Henry Zaga's arc in the new version. That's an interesting thing to know, but what it doesn't address what the hell he is staring at on the ceiling in his brief appearance.
Is it possible that he is looking up at a levitating Randall Flagg (played by Alexander Skarsgard)? Or is he just looking at a particularly fascinating picture framed high on the wall? It's a mystery left teased by the brief footage.
Will Randall Flagg And Mother Abagail Be Getting Face-To-Face Time?
In the didactic showdown between good and evil that is at the heart of The Stand, the figureheads are Mother Abagail and Randall Flagg, but for the most part they exist in their own separate corners – the former calling on people to find peace in what is eventually known as the Boulder Free Zone in Colorado, and the latter stirring up trouble from his base of operations in Las Vegas. Based on what we see in the trailer, though, it makes us wonder if we may get a scene or two that will feature the two leaders face-to-face.
This question is particularly motivated by what is the final shot of the trailer, featuring Mother Abagail sitting at a table with a fierce-looking white wolf staring her down. In the novel, Randall Flagg regularly demonstrates control over animals like wolves, ravens, and weasels, and the implication in the scene discussed here seems to be a showdown of sorts between the oldest woman in the world and an evil-influenced surrogate. But could we wind up getting a sequence that features Alexander Skarsgard and Whoopi Goldberg together? We'll have to wait and see.
Will We Get A Longer Trailer Soon?
It's always bad form to look a gift horse in the mouth, and as fans we are grateful just to finally have some footage from The Stand that we can obsess over… but it also isn't lost on us that 30 total seconds of footage from what is expected to be a 10 hour miniseries is what could be described as "super ultra-mega tease." All of what we see here represents a grand total of .08% of the full show… so can you really blame us for already asking for more?
There are about three-and-a-half months left between now and the release of The Stand on CBS All-Access, so surely the marketing has to start ramping up soon. Our appetites have now been sufficiently whetted in preparation for an extended look at the series featuring more than a few brief, random moments, and hopefully they won't keep us on the hook waiting for too long.
What questions do you now have about The Stand following the release of its first trailer? Hit the comments section below, and stay tuned here on CinemaBlend for more of our coverage of the miniseries as we get closer and closer to its release on December 17. 2551439
Your Daily Blend of Entertainment News
Assistant Managing Editor
NJ native who calls LA home and lives in a Dreamatorium. A decade-plus CinemaBlend veteran who is endlessly enthusiastic about the career he's dreamt of since seventh grade.
Your Daily Blend of Entertainment News
Thank you for signing up to CinemaBlend. You will receive a verification email shortly.
There was a problem. Please refresh the page and try again.