Stephen King's The Stand TV Show Reveals Alexander Skarsgard's Randall Flagg And More In First Look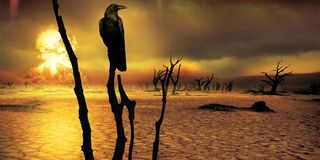 The world is arguably more ready now for an adaptation of The Stand than ever before. Between the on-going COVID-19 pandemic, and the massive resurgence of Stephen King in pop culture, the material is excessively tapped into the zeitgeist (despite the fact that the book was first published decades ago). Fortunately, we only have a little while longer to wait before we actually get to see the new live-action take on the story, with a limited series set to launch on CBS All Access later this year, and today we are over-the-moon to have received our very first look at stills from the show featuring the stars in character:
Vanity Fair has received the exclusive first look at The Stand today, posting seven stills on the publication's Instagram page, and you can check them out by clicking through the gallery below.
If you don't know anything about The Stand, there's a good chance that these images don't mean a hell of a lot to you – but the good news is that we're familiar with the book and happy to break down what's being shown here.
Randall Flagg
Let's start with the big bad, shall we? In The Stand, Alexander Skarsgard plays the notorious Randall Flagg – who is an otherworldly being who is ostensibly a force of pure evil. Following the deadly outbreak of the flu known as Captain Trips, he goes on a recruitment mission of sorts to gather disciples from the limited pool of survivors still left in the world. He communicates with those who may follow him through their dreams, working to get them to swear allegiance to him, and he sets up a base of operations for his business in Las Vegas – which explains the neon lighting in the solo shot of the character above.
Lloyd Henreid
You probably noticed that the gallery above features two shots of Alexander Skarsgard as Randall Flagg, with the second one featuring the Stand antagonist squatting next to a prisoner locked up in a jail cell. This prisoner's name is Lloyd Henreid, and he is played by Nat Wolff in the series. At the start of the Captain Trips outbreak, Lloyd finds himself thrown in jail following a homicidal crime spree, and that becomes a serious problem when all of his fellow inmates and all of the guards start to die. He winds up being on the verge of starvation when Randall finds him, and is recruited to be a top figure in the leader's growing faction of survivors.
Mother Abigail
Randall Flagg is essentially the representation of all evil in The Stand, but his presence in the world is balanced out by Mother Abigail – a true force for goodness, and the oldest woman alive at the age of 108. From her family farm in Nebraska, Abigail (who is played by Whoopi Goldberg on the show) sends out a kind of psychic signal to the good people left in the world, and has them join her in the pursuit of starting a new society in the mid-west.
Franny Goldsmith
Next up we have Franny Goldsmith, played by Odessa Young. She too has a complicated life to lead in the post-Captain Trips world, primarily because she is surviving for two. While its information that she mostly keeps to herself out of fear, she is pregnant at the start of the outbreak. Living in Ogunquit, Maine, she is all alone following the death of her parents, but she does wind up with an unfortunate partner to travel with when its decided that she can no longer stay home…
Harold Lauder
As seen a couple of times in the gallery above, Franny's travel companion is Harold Lauder (played by IT's Owen Teague), and it turns out that his presence isn't such a great thing. Not only is he obsessively in love with Franny (a feeling she doesn't reciprocate at all), but he is also possessive and bitter – unable to stand it when the woman he sees as his even looks at another man. In the book they leave Maine together in hopes of making it to the infectious disease center in Stovington, Vermont, but based on the image above, it seems their course will be changing a bit as they plan to head to the CDC in Atlanta instead.
Those who have read the book know that this collection of characters really only represents a fraction of all the main players in The Stand – as this gallery doesn't feature James Marsden's Stu Redman, Henry Zaga's Nick Andros, Brad William Henke's Tom Cullen, Jovan Adepo's Larry Underwood, and Amber Heard's Nadine Cross as examples – but hopefully it won't be too much longer until their first look images arrive.
The Stand doesn't currently have a release date, but stay tuned here on CinemaBlend for more updates about the project.
Assistant Managing Editor
NJ native who calls LA home and lives in a Dreamatorium. A decade-plus CinemaBlend veteran who is endlessly enthusiastic about the career he's dreamt of since seventh grade.
Your Daily Blend of Entertainment News
Thank you for signing up to CinemaBlend. You will receive a verification email shortly.
There was a problem. Please refresh the page and try again.