Agents Of S.H.I.E.L.D.'s Brett Dalton Reveals How He Feels About Not Being Asked Back For The Final Season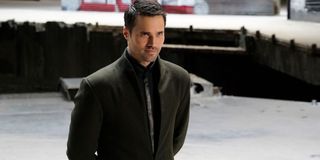 The final season of Marvel's Agents of S.H.I.E.L.D. brought back a number of fan-favorite faces, including Enver Gjokaj as the noble Daniel Sousa and Patton Oswalt as another hilarious Koenig relative. But one face that was notably absent was that of disgraced former S.H.I.E.L.D. operative Grant Ward, who was played by Brett Dalton. The actor recently revealed that he was not asked to return for S.H.I.E.L.D.'s final run and admitted that while he enjoyed the season, he's trying not to be too bummed out about it:
Grant Ward was originally introduced as a member of Phil Coulson's team before being outed as a HYDRA mole during the latter half of Season 1. The character would be killed off in Season 3 but returned for the "Agents of HYDRA" story arc in Season 4. Given his history with the show, many assumed Brett Dalton would be returning, but it seems it wasn't meant to be.
Despite this, Dalton further explained to ComicBookMovie.com that he's incredibly grateful for having been part of the show. He also acknowledged that the producers found ways to keep Grant Ward around longer than expected:
Dalton does make a good point regarding Ward's "very complex" journey. When the traitor was killed off during Season 3's mid-season finale, he was brought back into the fold as the vessel for the cosmic villain Hive. This would effectively allow Dalton to remain on the show for the remainder of that season.
Although Brett Dalton would've liked to have been brought back for the final season, he definitely still seems to have nothing but love for his former colleagues:
With time travel having been the focal point of Agents of S.H.I.E.L.D.'s final season, an appearance from a Grant Ward of any age would've been possible. This method was actually employed for Ward's HYDRA mentor, John Garrett, whose younger counterpart appeared during the final season.
While Ward did get a passing mention during one of the show's final episodes, it honestly would've have been nice to see Brett Dalton on screen with his co-stars again. Still, it's nice to see that Dalton is at peace with not being included.
The first six seasons of Agents of S.H.I.E.L.D. are now streaming on Netflix, while the seventh is available on Hulu.
Covering superheroes, sci-fi, comedy, and almost anything else in film and TV. I eat more pizza than the Teenage Mutant Ninja Turtles.
Your Daily Blend of Entertainment News
Thank you for signing up to CinemaBlend. You will receive a verification email shortly.
There was a problem. Please refresh the page and try again.