Agents Of S.H.I.E.L.D.'s Jeff Ward Talks Deke's Surprise Ending, Feelings For Daisy And More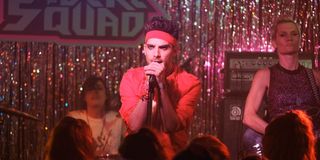 Agents of S.H.I.E.L.D. wrapped its seven-season run by tying up unresolved storylines, having the team defeat the Chronicoms, and including more time travel shenanigans. Each character also got their own happy ending in the series finale's final moments, so it was great all around. The last few seasons were especially fun because of the introduction of Jeff Ward's Deke Shaw, the future grandson of FitzSimmons, in Season 5. Ward recently discussed his character's surprise ending, Deke's feelings for Daisy, what he was most grateful for, and more.
Unlike the rest of the S.H.I.E.L.D. team, Deke didn't seem all that responsible at first, and he constantly found ways to turn things around in a way that benefited him. However, at his core, Deke was a caring person, and Season 7 of Agents of S.H.I.E.L.D. proved that more than ever before, especially with regards to how he handled being stuck in the 1980s with Henry Simmons' Mack. In a roundtable interview attended by CinemaBlend and other outlets, Jeff Ward discussed one thing he appreciated the most about his character's arc in Season 7. Here's what he said:
Deke certainly did learn a lot from Mack's leadership skills. Although he was often left to his own devices (or trying to fit in), Deke found inventive ways to make things work. At the end of the day, Deke's primary takeaway from his time with Mack is that sometimes leaders had to make sacrifices.
That led him to do perhaps the most selfless thing for Coulson, Daisy, et al in the Agents of S.H.I.E.L.D. series finale. Deke opted to stay behind in the alternate timeline so that the team could get back to the main timeline and defeat the Chronicoms. Here's what Jeff Ward had to say about Deke's choice and his evolution as a character:
I think Deke's ending was incredibly fitting for his character, especially considering all that he had learned over the course of three seasons. Before Deke volunteered to stay behind, Daniel Sousa was all set to make that sacrifice. However, Deke realized that, despite having feelings for Chloe Bennet's Daisy, he only wanted her to be happy. If that meant making the sacrifice instead of Sousa so they could be together, then so be it. Jeff Ward had quite a bit to say about Deke wanting Daisy to be happy. In his words:
Considering that Daisy never reciprocated Deke's feelings, I'd say that he was never going to get the girl no matter how many lemons he left for her. But I do agree that Deke's choice to take one for the team and let Daisy go was indeed a "heroic moment."
At the end of it all, Jeff Ward was really happy that he got to be a part of Agents of S.H.I.E.L.D.. The fact that Deke got the heroic ending that he did, paving the way for a very different future than the one he had in Season 5, was a great way to cap off his journey. Ward also felt that it was okay that Deke wasn't in the final group scene. Here's how he put it:
Agents of S.H.I.E.L.D. is currently available to stream on Netflix (Season 1-6) and Hulu (Season 7). For more on what to watch, be sure to check out our 2020 fall TV schedule.
Your Daily Blend of Entertainment News