Agents Of S.H.I.E.L.D. Is Bringing Back Fan Favorite As New Character For Final Season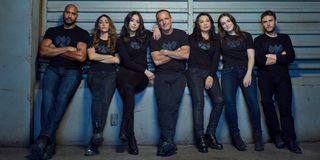 In just a few short weeks, Agents of S.H.I.E.L.D. is returning for its seventh and final season. The ABC series, the last of the Marvel TV shows under the creative leadership of former exec Jeph Loeb, has had its fair share of characters return to the show in some capacity, be they dead or alive or otherwise. In that same vein, the show is bringing back fan-favorite Patton Oswalt for Season 7, and he'll indeed be playing an entirely new Agents of S.H.I.E.L.D. character.
In a Season 7 first-look image released by CBR, Patton Oswalt's mysterious new character is dressed to the nines in a three-piece brown suit. His hair is slicked back, and he's sporting a mustache, which is an interesting look for the actor. Unlike Oswalt's previous Agents of S.H.I.E.L.D. portrayals from the Koenig family, this new character is markedly different, and it's not just because of his hair and clothes. He looks stern and serious as he pensively stares at something, and it's a far cry from the other character's he's played on the show.
Patton Oswalt's latest character will reportedly appear in an early episode of Season 7. The end of Season 6 saw the Agents of S.H.I.E.L.D. crew, alongside Phil Coulson's LMD copy, transported back to the 1930s. They'll be attempting to get back to their original time period without trying to mess anything up in the past, which sounds somewhat similar to the time travel plot of Avengers: Endgame.
So how does Patton Oswalt's return come into play? Well, the basic assumption is that Oswalt's character is a relative of the Koenig brothers, and potentially a S.H.I.E.L.D. agent himself. The brothers' S.H.I.E.L.D. loyalty runs deep, after all! However, that's just a guess based on who Oswalt's played before. Official confirmation about who his character is and how he'll be connected to the plot are unknown, so viewers can only speculate until the season premieres and provides some answers.
If Patton Oswalt himself is to be trusted, though, it sounds like S.H.I.E.L.D. fans are going to love this new addition.
Patton Oswalt first appeared on the ABC series in Season 1 as Eric Koenig, a trusted and upbeat S.H.I.E.L.D. agent whose death revealed Agent Ward's true motives as a sleeper HYDRA operative. However, Agents of S.H.I.E.L.D. managed to bring the actor back by having him portray Eric's quadruplet brothers, Billy, Sam, and Thurston. The latter was the only brother who wasn't loyal to S.H.I.E.L.D., as he was bitter that the agency was responsible for Eric's death. Oswalt hasn't returned as a Koenig brother since Season 4, so his return will be most welcomed.
Agents of S.H.I.E.L.D. Season 7 is set to premiere on Wednesday, May 27 at 10:00 p.m. ET on ABC. Share your thoughts about who Patton Oswalt might be playing in the comments below. For more on what to watch in the coming months, be sure to check out our 2020 summer TV premiere schedule.
Your Daily Blend of Entertainment News