Agents Of S.H.I.E.L.D. Season 7 Is Already Delivering The Best Time Travel On TV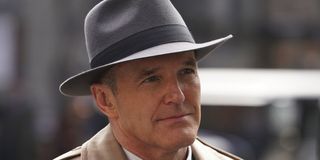 (Image credit: ABC)
Spoilers ahead for the Season 7 premiere of Agents of S.H.I.E.L.D. on ABC, called "The New Deal."
Agents of S.H.I.E.L.D. is officially back for its seventh and final season, which could very well be the show's wildest to date. After the Season 6 cliffhanger ended with the heroes set to spend Season 7 chasing the Chronicoms (aside from good old Enoch) through time, "The New Deal" unleashed the agents (including LMD Coulson) on 1931 New York City, and in the process proved that S.H.I.E.L.D. is already delivering the best time travel on TV. The question is: can it last?
"The New Deal" of course isn't the first time that Agents of S.H.I.E.L.D. or the larger MCU have dealt with time travel, and time travel is hardly something new on TV. Between Outlander, Doctor Who, Legends of Tomorrow and more, the small screen has no small amount of content that sends characters throughout time. Thanks to the Season 7 premiere, however, S.H.I.E.L.D. is capable of true time travel greatness, and I say that as somebody with high standards for time travel. Here's why S.H.I.E.L.D.'s Season 7 use is already fantastic.
There Are Rules
There's nothing more fun on an action-packed comic book-based TV show than a comprehensive set of rules, right? In my mind, yes, when it comes to Agents of S.H.I.E.L.D. Season 7. The season will run for only 13 episodes, so the heroes battling the Chronicoms without having any kind of guidelines to stick to might not have been very interesting.
Simmons herself summed up the situation nicely, explaining that the Chronicoms believe only S.H.I.E.L.D can stop them from taking Earth, so they're planning to eliminate S.H.I.E.L.D. from history. The Zephyr is a time machine insofar as it can follow the Chronicoms through history, on "autopilot." According to Simmons:
S.H.I.E.L.D. has a goal: stop the Chronicoms from taking over the Earth by following their course through history on "tides." They can't use the Zephyr as the kind of time machine that lets them jump back and forward however they want. As complicated as their mission is, their goals are relatively straightforward, so viewers don't have to try and figure out the rules of S.H.I.E.L.D. time travel week in and week out. There's more time for character development (and LMD Coulson nerding out over witnessing history) without -- to quote Doctor Who -- any "timey wimey" confusion.
There Is No Butterfly Effect
Despite Daisy and Mack looking like a million bucks in their period costumes and Coulson finding joy in meeting FDR, Deke became my favorite character of the episode for debunking Daisy's assumption that the butterfly effect was in play, and every little thing they did in the past could have huge impacts on the future. Deke broke down the alternative, which seems to be what S.H.I.E.L.D. is going with:
One of my personal pet peeves with time travel shows like Outlander and Doctor Who is a disregard for the possibility that every little life saved or instance of future knowledge being used can change time forever, so I'm distracted by wanting characters to make as little an impact as possible. S.H.I.E.L.D. just totally avoided the problem altogether by going with the timestream idea.
If Daisy had gone full Quake on FDR, that would be bad. Daisy going full Quake on some Chronicoms in a kitchen with no witnesses? All good. The S.H.I.E.L.D. characters can do all the splashing they want without too much risk. Thanks, Deke!
The Show Is Ending
Am I happy that the criminally-underrated Agents of S.H.I.E.L.D. is ending? Of course not! Am I happy that Agents of S.H.I.E.L.D. waited until the end to spend a season traveling through time in earnest? Absolutely. With no Season 8 to follow, S.H.I.E.L.D. can pretty much do whatever it wants without having to worry about what it means for canon or the precedents it sets.
Sure, S.H.I.E.L.D. is part of the MCU and I'd love for at least Daisy to jump to the movies once the show is over, but S.H.I.E.L.D. has often done its own thing independent of the larger MCU. There can be lasting consequences -- for better or worse -- from the Season 7 time travel for the S.H.I.E.L.D. characters, because why not?
Let LMD Coulson stay behind in his favorite period of history if he wants. Reunite Fitzsimmons and let them retire to a Scottish cottage to make Deke's mom after the Chronicom threat is defeated. Find a reason for Henry Simmons to return to the MCU but wear nothing but snazzy 1930s suits. Anything can happen in and after this experiment in time travel because nothing has to be set in stone for what happens after Season 7. Go nuts, Agents of S.H.I.E.L.D.!
All of this said, it's possible that S.H.I.E.L.D. will break my heart and go for more of a butterfly effect version of time travel after getting my hopes up for 12 more episodes of Deke's timestream idea, but I'm excited to see what happens next. Check out the official ABC description for the next episode:
New episodes of Agents of S.H.I.E.L.D.'s final season air on Wednesdays at 10 p.m. ET on ABC. There are still some big questions that need answering before the final credits roll on the series, not the least of which concerns when Iain De Caestecker will return to the action as Fitz. Hopefully we won't have to wait too long, but S.H.I.E.L.D. has never been easy on fans of Fitz, Simmons, or Fitzsimmons.
For some additional viewing options now and in the not-too-distant future, check out our 2020 summer premiere schedule!
Laura turned a lifelong love of television into a valid reason to write and think about TV on a daily basis. She's not a doctor, lawyer, or detective, but watches a lot of them in primetime. Resident of One Chicago, the galaxy far, far away, and Northeast Ohio. Will not time travel, but will sneak references to The X-Files into daily conversation.
Your Daily Blend of Entertainment News
Thank you for signing up to CinemaBlend. You will receive a verification email shortly.
There was a problem. Please refresh the page and try again.