Cobra Kai Season 3: 6 Questions We Hope The Netflix Series Will Answer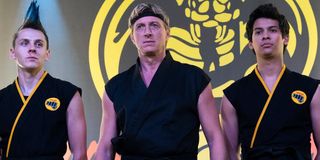 Warning: SPOILERS for Cobra Kai Season 2 are ahead!
Cobra Kai Season 1 and 2 recently arrived on Netflix, and with its arrival comes a lot of excitement about Season 3. Season 2 was a finish quite unlike anything I expected from the karate series, and I couldn't imagine how things would go forward for any of the main characters after that massive high school showdown.
For that reason, I have some major questions I'm thinking about after Season 2 that I'd like to see addressed in Season 3. There are a lot of plot threads that lead to some interesting questions going forward, and I can only hope these things will be answered as the show continues on Netflix.
Will Miguel Fully Recover From His Fall In Season 3?
Miguel Diaz's fate was left in limbo at the end of Season 2 when he was on life support after falling a couple of stories onto hard concrete. He was by far the most injured person in the high school brawl, and with the final shot of him unconscious and hooked up to machines, there's no telling how bad this injury was for him. Where will Season 3 pick up for one of Cobra Kai's stars?
If I had to guess, I don't think Miguel Diaz will die. I do question how long until he is cleared to do karate again, and whether or not his mother Carmen will even allow that. She and Johnny broke up after that fight, so even if Miguel returned to karate, I question that Johnny would be his sensei. Of course, Cobra Kai is a story of redemption, so I can't imagine the odds of Johnny being forgiven and helping Miguel go through rehab are entirely out of the question.
Will Johnny Be Able To Get The Gym Back From Kreese?
John Kreese proved he was the same scum bag who choked out teens back in the day when he managed to take over ownership of Cobra Kai from under Johnny's nose. It was the ultimate betrayal in Johnny's eyes, especially considering he viewed Kreese as a father figure despite their complicated history. Johnny lost his students and livelihood in one fell swoop, and it seems like the only option he has from here is to try and get it back.
Of course, the answer behind how he'll do that isn't that simple. Johnny lost possession of the space because he wasn't making rent in a timely manner, and ownership was handed over to Kreese when he was in San Bernadino. Unless he can re-purchase the gym or find a way to convince Kreese to willingly give the gym back, I don't see it happening. Then again, this show is called Cobra Kai, so for Johnny to not eventually regain control of it seems wrong. I don't know how Johnny will get the gym back, but I know eventually he's going to have to try.
Will Daniel And Johnny Be Able To Put Their Differences Aside In Season 3?
The most disappointing twist of Season 2 of Cobra Kai is that just when it seemed like Johnny Lawrence and Daniel LaRusso were about to squash their feud, the kids got in the way. Daniel was outraged that his daughter Sam drunkenly went to Johnny's house with Robby after a party, and that Johnny didn't contact Daniel immediately to tell him about it happening.
Now with both men at their lowest point in the series, it seems like it will be harder than ever for Daniel and Johnny to put the past behind them. Johnny has lost his gym, and Daniel was told by his wife that his days running Miyagi-Do (the dojo named after Mr. Miyagi) are finished after Sam's sustained injuries from the fight. Perhaps the fact that Cobra Kai's heroes are both driven away from karate at their lowest point will ultimately give them some common ground to connect on.
Where Did Robby Run Off To?
Robby made a run for it after he inadvertently caused Miguel to be badly injured, and he was nowhere to be found at the season's end. Robby is a kid who was forced to grow up a lot in his teens, so I think he'll find a way to hide out for a minute without immediately being found. I have no doubt that he'll find a place to lay low, but how long can he do that?
Also, I have to wonder if Cobra Kai Season 3 won't see Robby brought up on possible criminal charges for the fight. Sure, it wasn't his clear intention to hurt Miguel that bad, but it happened, and there had to be cameras in the school and plenty of student witnesses that saw it go down. It would be a real tragic turn in Robby's story if he had to face all that, though definitely yet another direction for this wonderful revival to go.
Will Daniel Really Give Up On Miyagi-Do?
After Samantha ends up in the hospital following the high school fight, Amanda tells Daniel that Miyagi-Do is done. That means no more karate, no more training students and certainly no more starting feuds using karate as a grown man. Look, I think it was childish of Daniel to get this deep into the feud to begin with, but that's an entirely different conversation.
Daniel LaRusso's entire identity is rooted in karate, so believing that he'll put it all behind him even with Amanda's demand is hard to believe. To take away karate from him is to take away a big part of his life, and I think keeping him away from that is going to impact his life. It may even cause some issues in his relationship, though I can't help but think that's a little too dark for Cobra Kai. We can only wait and see and see what kind of man Daniel is when karate isn't a part of it.
How Will Ali Mills Schwarber Factor Into Season 3?
One of the biggest teases of Cobra Kai was the news that the ex-girlfriend of Daniel LaRusso and Johnny Lawrence, Ali Mills Schwarber, could work her way into the story somehow. After a couple of seasons of name-dropping, Season 2 ended with Johnny throwing his phone into the sand. As he walked away, it was revealed that Ali had sent him a friend request, which was an exciting development.
Of course, I do have to question what Ali coming into the story would actually mean. The last time Ali was mentioned on Cobra Kai, she was happily married, so bringing her back doesn't seem like it would be for a love storyline. If nothing else, Ali would be a shoulder to cry on for Johnny in his time of need, so I would certainly be behind her coming into the story for that reason. Even if her role is small, it would be great to see her be a part of Season 3 in some way.
Seasons 1 and 2 of Cobra Kai (opens in new tab) are available to stream on Netflix. Continue to stick with CinemaBlend for more on Season 3, and for other news happening in television and movies.
Your Daily Blend of Entertainment News
Mick likes good television, but also reality television. He grew up on Star Wars, DC, Marvel, and pro wrestling and loves to discuss and dissect most of it. He's been writing online for over a decade and never dreamed he'd be in the position he is today.