Why Jennifer Aniston Had To Lose Weight Before Friends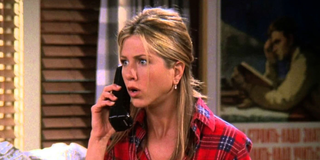 Jennifer Aniston has been one of America's sweethearts for several decades now. So much so that it's almost hard to believe that the erstwhile Rachel Green was hopping around on our TV screens for a few years before nabbing the iconic Friends' role that would make her a household name. Of course, part of the reason for that is that Aniston hadn't managed to land any major parts on any major television shows before the now-classic sitcom came around, and it sounds like losing weight may have helped her a lot when it came to her fledgling career in those early days.
A large part of her role of Rachel Green that Jennifer Aniston easily helped to sell was that of the dream girl next door. For Ross, when they were growing up, Rachel was perfect in every way, and (as we well know) those first crush feelings for her never went away, no matter how much he learned about the person who was behind the pretty face and "perfect" body. But, thanks to the Saul Austerlitz book Generation Friends: An Inside Look at the Show that Defined a Television Era (via The News), we know that Aniston may have only gotten that opportunity because of the big weight loss she had before even getting the audition for Friends.
According to Austerlitz, even though Jennifer Aniston had been working on TV before Friends, her agent eventually had a talk with her which convinced her that, in order to get a shot at bigger and better roles, she'd have to lose weight:
Basically, Aniston's agent told her that she was losing out on even the chance to audition because she was seen as being a bit too chunky for a lot of roles. Lest you think that Aniston looked like a totally different person prior to Friends, it's pretty easy to look up photos of her and see that she wasn't actually anywhere near being obese. The problem was just that Aniston was fat for Hollywood. In his book, Austerlitz continued:
Of course, on Friends it was never Rachel who had to worry about her weight, that was always Monica's domain. But, Aniston certainly took the message from her agent to heart and did everything she could to drop some pounds, so that those added 10 pounds would still leave her looking model-thin as she delivered drinks to Central Perk patrons.
During Season 2 of Friends, after it was a bona fide runaway hit on NBC, Aniston did an interview with Rolling Stone where she talked about the conversation with her agent, which took place right before a call-back for an audition where she'd been asked to show up wearing tights and a leotard. While Aniston wasn't what anyone would have called fat, apparently there was just enough meat on her bones for her agent to give her the straight truth about being thin in Hollywood.
Luckily, it doesn't sound like Jennifer Aniston was exactly making a practice of healthy eating before then, so when she set on the path to lose weight, one of the things she had to do was stop eating "too many mayonnaise sandwiches," where she would just put mayo on white bread and chow down. In fact, Aniston said she gave up white bread and mayo altogether back then, along with butter and any pre or post-meal snacking. She also joined a popular diet plan and ended up losing those 30 pounds.
It wasn't long after Jennifer Aniston's new body emerged that she nabbed the Friends audition, and the rest is now a part of Hollywood weight loss history. While Aniston admitted that her having to lose weight to get a shot at better roles was "the disgusting thing of Hollywood," at least it sounds like it did get her to pay more attention to what and how she ate.
Jennifer Aniston will be back on TV in Season 2 of the Apple TV+ series The Morning Show at some point in the future, and you can binge Friends to your heart's content on HBO Max. But, in the meantime, be sure to see what you can watch in the coming weeks with our guide to fall TV!
Your Daily Blend of Entertainment News
Yennefer's apprentice, Gilmore Girl; will Vulcan nerve pinch pretty much anyone if prompted with cheese...Yes, even Jamie Fraser.
Your Daily Blend of Entertainment News
Thank you for signing up to CinemaBlend. You will receive a verification email shortly.
There was a problem. Please refresh the page and try again.