Watch Jennifer Aniston Hilariously Scare Friends Fans Visiting The Central Perk Set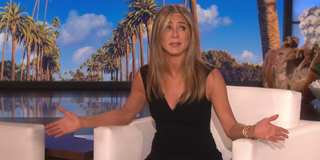 I think we can all agree that if you come across someone who openly claims to not love Friends you should immediately remove that person from your life, correct? Sure, all of us might not be able to quote favorite lines all day or remember what Ross and Rachel were wearing when they decided to take their infamous break, but everyone has had some enjoyable times while watching the classic comedy. Well, some folks got quite the surprise recently when star Jennifer Aniston stopped by her old stomping grounds at the Central Perk to scare some fans. Yay! Or, rather, BOO!
Jennifer Aniston didn't just randomly decide to hop on over to the Warner Bros. lot and hang around the Central Perk portion of the Friends set, though. Oh, no. The recent SAG Award winner was prompted to take on these scare tactics during a guest hosting gig on The Ellen DeGeneres Show, and, as you might expect, the people who were enjoying their set tours had some pretty funny (and scream-filled) responses. Take a look!
OK, while I can admit to never being scared by a famous person under any circumstance, it seems like most of these ladies had the appropriate reactions to Jennifer Aniston jumping up from behind the Central Perk couch in an attempt to elicit reactions of shock and awe. We saw a lot of laughing and screaming, and some stunned silences that turned into laughing and screaming.
The first group of ladies got into a little bit of trouble for announcing so proudly that Ross was their favorite character on Friends, and rightly so. Sure, Ross was funny at times (Pivot!), but also, he was kind of a monster for most of the show. A nerdy, obsessive, hard to pinpoint on a first viewing monster, yes; but a monster nonetheless. But, I digress...
Jennifer Aniston's second set of ladies seemed to get a genuine scare from her jumping up behind them, which was fun to see. But, also, they were able to regain just enough composure to play along with her Rachel-esq coffee service from that empty pot of decaf. Way to rebound, ladies. Good on you! By the time Aniston hits her third set of screamers, even she's willing to admit that this undertaking is "the cruelest thing in the world," which might be a slight exaggeration when you consider the fact that it's not like the whole cast of Friends was in on it.
But, my favorite reactions are two very different ones. The women who come next are smiling very politely for their souvenir photo when Jennifer Aniston jumps up and...they continue smiling politely as they wonder what's going on. They don't seem even remotely scared, or upset, just less than thrilled, mostly because they needed to get all the facts straight before celebrating this momentous event, so they took to quizzing Aniston on her realness. After she hid again and did another reveal to see if she could get a better reaction, anyway (she didn't).
Then, we have the next duo, who win in my book for best overall screaming. After they declare Joey their favorite Friend, Aniston shows herself and they scream, truly scared. But, then they both stop briefly, realize who has scared them, and the woman in the yellow t-shirt begins screaming again. I counted, you guys, and she took three full-on breaths to keep screaming! It must have freaked Jennifer Aniston out, because she finally gave up and said that Joey is her favorite, too, as Yellow Shirt looked on with a truly pained expression on her face. (My guess? She peed. Probably a lot.)
It all ended up just fine, though, because everyone who was able to withstand a scare-fest from Jennifer Aniston got to sit in special seats at the Ellen taping she guest hosted. No one ended up in the ER because they had an Aniston-induced heart attack, so this was a success all around!
Until we see if any of those Friends' reunion teases come to fruition, you can watch Jennifer Aniston on the Apple TV+ series The Morning Show, which will have a second season coming, probably late this year.
Yennefer's apprentice, Gilmore Girl; will Vulcan nerve pinch pretty much anyone if prompted with cheese...Yes, even Jamie Fraser.
Your Daily Blend of Entertainment News
Thank you for signing up to CinemaBlend. You will receive a verification email shortly.
There was a problem. Please refresh the page and try again.