Why The Mandalorian's Jon Favreau Wanted Baby Yoda To Be A Puppet, According To VFX Specialist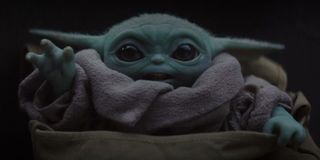 Disney+'s The Mandalorian is an achievement on multiple levels, and this is especially true when it comes to visual effects. The show has effortlessly recreated the world of Star Wars for television and easily stands alongside its big-screen counterparts. However, it was one of the show's practical effects that really grabbed audiences' attention. The object in question is Baby Yoda, who became an overnight pop culture sensation. The character is notable for being an animatronic puppet and, according to VFX artist Goran Backman, series creator Jon Favreau really wanted this to be the case:
Goran Backman's comments to Screen Rant shouldn't come as too much of a surprise. Practical effects were one of the key elements of the original Star Wars trilogy, and that tradition has only continued as time has rolled on. Many likely still remember what it was like to see the impressive Yoda puppet for the first time when it debuted in The Empire Strikes Back.
Despite Baby Yoda (or "The Child") being produced as a practical effect, Backman further explained that ILM did produce a CG Baby Yoda for certain scenes:
Several scenes within The Mandalorian did make use of CG version of The Child, such as when the baby is seen lifting a Mudhorn with the Force. Interestingly though, it was explained during the Disney+ docuseries, Disney Gallery: The Mandalorian, that anytime the CG Child was used, it wouldn't move in a way that the puppet couldn't. This was likely due to a desire to maintain consistency with the character's actions.
The use of a practical puppet is quite impressive and, given the response to Baby Yoda, I would say it was pretty effective. Even cast members like Werner Herzog and Giancarlo Esposito became very attached to it while on set. The green baby has definitely been missed since the first season of The Mandalorian concluded last fall but, luckily, we'll be able to see him return for Season 2 fairly soon.
The first season of The Mandalorian is currently streaming on Disney+, while Season 2 is scheduled to start airing on October 30.
Covering superheroes, sci-fi, comedy, and almost anything else in film and TV. I eat more pizza than the Teenage Mutant Ninja Turtles.
Your Daily Blend of Entertainment News
Thank you for signing up to CinemaBlend. You will receive a verification email shortly.
There was a problem. Please refresh the page and try again.