After Cobra Kai: 7 Other 80s Movies That Should Get A TV Show Sequel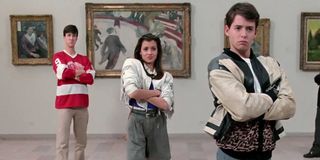 Late in August, to enormous success, Netflix debuted the first two seasons of YouTube Premium's Cobra Kai on its platform. While the sequel series — a decades-later continuation of 1984's The Karate Kid — found an audience on its original platform, it exploded upon its Netflix debut. It's also further proof that there's a substantial market of nostalgic viewers clamoring for TV or streaming shows centered around their 1980s favorites.
Though it wasn't the first show to try this format, as seen with Ash vs. Evil Dead and The Dark Crystal: Age of Resistance (also on Netflix), this streaming show has exceeded expectations, making its third season even more anticipated. With Cobra Kai kicking butt on Netflix, is there room for more '80s movies in serialized form? What other '80s films are expandable to a sequel series/mini-series? We've got suggestions.
Ferris Bueller's Day Off
We only followed the antics of Ferris Bueller for one glorious day in his rambunctious teenage years. But what is life like for Bueller after that? It's hard to believe his days got any better. In fact, he probably peaked in high school. In that sense, what if we followed Bueller more than 30 years later? He hates his life. He hates his job. He's possibly even divorced, or in a marriage he detests. He needs an escape to renew his freedom. Life moves pretty fast, as he once said. That's when his friend Cameron Frye re-enters.
When these two buddies reunite, much like Cobra Kai, what if their roles were reversed? What if Cameron is now the cooler, more adventurous personality while Ferris is the one who settled? Together, they try reclaiming their youth — even in their mid-to-late 50s.
The Breakfast Club
While this idea might work better as a mini-series than as a continuous narrative, the Breakfast Club in the present day would be an intriguing concept to explore in a hypothetical sequel. Specifically, the idea of our titular club reunited years after for a high school reunion. These misfit delinquents are back together under the same roof again, only time has changed them. Some for the better, others for the worse. With decades of life experience now found between them, in this new cultural landscape, their perspectives won't be the same as they were in their teenage years.
Plus, these one-time high schoolers might have children of their own now, some of whom are possibly the same age as they were that fateful Saturday morning in detention. While the Breakfast Club would still have many thoughtful conversations, their individual outlooks — and possibly their personalities — would be notably different.
WarGames
While its dated high-grade technology makes it a product of its time, WarGames remains commendably gripping and thrilling, particularly with its still-timely fear of nuclear apocalypse at the advent of a third World War. Considering how these fears haven't dissipated over the years but rather accelerated, it could be interesting to see what a sequel to this '80s favorite would look like with a modern lens. Blending '80s nostalgia with a more present look at our cultural global political landscape, this updated sequel/revival could follow the film's lead characters recruiting a new age of video gamer nerds to once again tackle the impending threat of nuclear fallout.
While there's something enjoyably fun (at least, in my opinion) about WarGames' era-based cheesiness, this new sequel series could bring more modernized legitimacy to its warnings of national and global catastrophe, while also reflecting on our technology-advanced age and modern social/political worldview.
Gremlins
While there has often been talk of a third film or potentially a reboot, we still haven't gotten a direct continuation to Joe Dante's Gremlins and Gremlins 2: The New Batch. It's hard to know whether or not this is for the best, especially since it would be hard to top the utter zaniness of the second movie, but it's clear that Zach Galligan and other folks involved with the original movies want to see it happen.
Well, if it's not meant to be a movie, could it work as a show?
It wouldn't be easy to keep the wackiness going for a whole new movie, let alone a series with potentially multiple seasons. But if the third movie hasn't found much traction, it wouldn't hurt to try expanding it into a series instead. There's no guarantee it would work, but it could certainly be a lot of fun.
Big
What happens when the boy who briefly became an adult actually becomes an adult?
It's an intriguing idea — one that could be interesting for a sequel series. It's hard to imagine he'll be living a normal life, having previously gotten a glimpse into his future. While it'd be hard to bring Tom Hanks back to the role, particularly for a show, it could be fun to explore the ripple effect of such an event, notably when he's into his adult years and a father himself. Though, naturally, it wouldn't involve Hanks but rather David Moscow, who once played young Josh, and how his life and worldview shifted — especially if he has a son now. As Moscow would be well into his 40s, a full decade-or-two away from Hanks' age in Big, this middle-aged reflection could be an interesting way for this property to grow up.
Spaceballs
Additionally, this one would probably work better as a movie sequel. But if, say, Netflix forked up the money, it could be a fun series or, at least, mini-series.
With Disney's newest Star Wars sequel trilogy recently concluded, is it time to make a proper-and-true Spaceballs 2? Much like The Force Awakens, The Last Jedi, and The Rise of Skywalker, this sequel focuses on the newcomers to the Spaceballs galaxy while some of our favorite characters from the original, including Bill Pullman's Lone Starr and Daphne Zuniga's Princess Vespa, reprise their roles as mentors. It'd be a way to pay homage to the original spoof while not necessarily stepping on its toes. Mel Brooks is open to the idea of a sequel, too. Plus, obviously, it was proposed in the original as Spaceballs 2: The Search For More Money. Would Disney allow it, though? It's hard to say.
The Neverending Story
I mean, it's right there in the title. The Neverending Story made a promise to audiences back in 1984 that the story would simply not end. Even though we were given two sequels in 1990 and 1994, respectively, the story has, indeed, come to a close since then. But it doesn't have to end there.
Perhaps now is the right time to honor the title of this fantasy epic and keep the story going. Plus, considering how the movies strayed away from the source material written by Michael Ende, maybe a sequel series could honor the nostalgic movie while also providing more direct parallels to the material. Plus, with updated visual wizardry, The Neverending Story would look gorgeous — so long as they keep the puppetry. Giving us a proper continuation while also servicing the intent of the movie and book seems like a win-win. The end shall not be nigh!
These are only a few we had in mind. There's also room to explore what happened after the events of This Is Spinal Tap, The Goonies, Meatballs, Beetlejuice, Dead Poets Society, Labyrinth, or Splash. What about the continued adventures of Fletch? Or a reunion of The Lost Boys? The more you think about it, the more possibilities seem endless. But now, we want to hear from you. What are some other '80s movies that deserve or warrant a sequel like Cobra Kai? Please let us know in the comment section!
Will is an entertainment writer based in Pittsburgh, PA. His writing can also be found in The Playlist, Cut Print Film, We Got This Covered, The Young Folks, Slate and other outlets. He also co-hosts the weekly film/TV podcast Cinemaholics with Jon Negroni and he likes to think he's a professional Garfield enthusiast.
Your Daily Blend of Entertainment News
Thank you for signing up to CinemaBlend. You will receive a verification email shortly.
There was a problem. Please refresh the page and try again.