A Spaceballs Sequel? Here's The Truth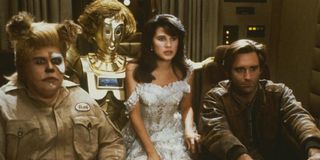 Fans of Mel Brooks have long clamored for a follow-up to his 1987 classic comedy Spaceballs. The film dissected and then expertly lampooned numerous iconic science fiction franchises – with particular emphasis on the Star Wars galaxy far, far away. With the recent release of Star Wars: The Force Awakens, numerous rumors have continued to swirl that Brooks may intend to return to the franchise. Sadly, at this point that's all they really seem like: rumors.
Uproxx reports that Brooks has vocally discussed the sequel in recent months during various interviews. Here's what he said about the profitability of a Spaceballs sequel:
So really he isn't saying that there will be a sequel to the classic comedy, just that now would be the opportune time because Star Wars mania has once again gripped the public consciousness and is making all of the money. The original Spaceballs broke the fourth wall numerous times, referencing the possibility that one day we would see a sequel called Spaceballs 2: The Search for More Money. It seems as though many people have misinterpreted this as a promise of a Spaceballs sequel rather than seeing it for what it really: a joke poking fun at cash-grab sequels.
As much as we claim to want a sequel to Spaceballs, we also acknowledge that it's probably best that we never get it. It's been almost 30 years since the original film hit theaters; with such high anticipation it seems unlikely that anything we get could never live up to its predecessor. After all, is it really possible to duplicate the genius of "when will then be now?"
It's also worth noting that quite a bit has changed since 1987. For starters, John Candy and Joan Rivers – who portrayed Barf and Dot Matrix, respectively – have both tragically passed, and the portrayal of their characters proved fairly instrumental to the original. Also, as we have previously reported on, Rick Moranis has for the most part taken a step away from the public eye, and has been vocal about his disapproval for a Spaceball sequel. This means Dark Helmet won't be rearing his oversized head anytime soon.
Of course, if Brooks ever changes his mind and decides to proceed with a Spaceballs 2 then you will be the first people we tell. For now we will just have to be happy with the new Star Wars films and enjoy our DVD copies of the original Spaceballs. Pop it in, have a good laugh, and may the schwartz be with you.
Your Daily Blend of Entertainment News
Originally from Connecticut, Conner grew up in San Diego and graduated from Chapman University in 2014. He now lives in Los Angeles working in and around the entertainment industry and can mostly be found binging horror movies and chugging coffee.