Why Norman Reedus Fans Should Expect A Lot More From Him At AMC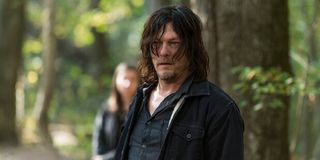 The Walking Dead may be coming to an end after Season 11, but Norman Reedus isn't done working with AMC just yet. The actor will be starring in his own Walking Dead spinoff series alongside co-star Melissa McBride. Now that Reedus has also launched his own production company, he has signed a first-look development deal with AMC Studios, and that means fans should expect a lot more from him at the network.
Norman Reedus' bigbaldhead productions will be partnering up with AMC's own VP of scripted programming, Amanda Verdon, and Brillstein Entertainment's JoAnne Colonna to produce content over the next two years. In fact, Reedus' production company is already set to adapt Undone By Blood. The TV show will be executive produced by comic book scribes Lonnie Nadler and Zac Thompson. Also on the bigbaldhead docket is the Unknown Man book series. Speaking with Deadline, Reedus expressed his excitement for the two-year deal. In his words:
Undone By Blood sounds incredibly interesting in my opinion. The comic book series is a Western set in the 1970s and follows Ethel Grady Lane in her revenge against the man who killed her family. Considering that Norman Reedus is executive producing the series, it's likely that he'll be starring in it as well. However, that hasn't been confirmed.
Norman Reedus' partnership with AMC comes as no surprise. The actor has already worked with the network for ten years on The Walking Dead, and he has branched off to lead the reality series Ride with Norman Reedus and, of course, the upcoming Daryl and Carol spinoff series. The spinoff doesn't yet have a title, but it's expected to premiere at some point in 2023.
That may sound like a long way away, but fans will be getting Norman Reedus for the remainder of Season 10 and Season 11 of The Walking Dead, which will probably air its second half in 2022. With that timeline in mind, I'm sure that fans will barely miss Reedus before he's back onscreen again. Considering the actor's new AMC deal, it sure sounds like he'll continue being an AMC staple for a while to come.
The Walking Dead Season 10 finale is set to air on AMC on Sunday, October 4 at 9:00 p.m. ET. For more on what to watch in the coming months, be sure to check out our 2020 fall TV premiere schedule.
Your Daily Blend of Entertainment News