Is Simon Cowell's Back Injury Worse Than We Thought?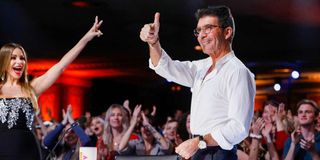 (Image credit: Photo courtesy of NBC)
It's been a few weeks since we've really heard from Simon Cowell after a bicycle mishap turned rather dire. The popular America's Got Talent host and creator was hospitalized following an electric bike accident back in August. He made a few attempts on social media to make light of his injury, but now weeks later, he's all but disappeared from the public eye, leaving people wondering: Is Cowell's back injury worse than it was thought?
Though we've known for a while that Simon Cowell had injured himself pretty significantly, it seems there could potentially be long-term ramifications after the electric bike accident. According to a new report coming straight from the rumor mill, aka an unnamed source over at OK Magazine, Simon Cowell's injuries are "much more dramatic" than the AGT host had been acting like.
Given the few times we've heard from him since the accident were times he was joking about his proficiency on bikes, he has definitely tried to make light of what happened—at least publicly. At the time he released the comment and a jokey post about a safer bike he'd been sent, noting,
Regardless, this new report indicates that "there is fear" that Cowell may always have issues with the three vertebrae he reportedly broke in the accident. He's allegedly walking with a walker right now and the unnamed source has said he may suffer long-term ramifications from the electric bike accident, though it's worth noting none of this information has come from Simon Cowell himself.
Still, it's clear that things are not going super swimmingly right at this moment. When he first suffered the bike injury, there was speculation about when Simon Cowell would be able to get back and do his judging duties on America's Got Talent. As days turned into weeks, new details trickled out, including the fact that he'd broken his back in three places. A long recovery time should seemingly be expected given the circumstances of the back break. And a previous report indicated that Cowell was recovering at home, doing some light work and even had the wherewithal to understand that he shouldn't go too hard right now.
More recently, his former reality co-star on The X Factor Nicole Scherzinger even visited the Cowell estate over Labor Day weekend. While we were treated to gorgeous shots of the estate's landscape and some Instagram Stories with Simon Cowell's partner Lauren Silverman, Cowell was not seen in any of the shots.
So, one thing that is clear is that he's laying low for now. With AGT's finals coming up on NBC, Simon Cowell doesn't need to rush to make it back to work this season. Hopefully, he'll spend the time resting and relaxing and when he's ready he can share more about where his recovery is at, which would be similar to how Kevin Hart handled his accident progress, though Cowell may choose a different path. Hopefully, at that point there will be good news.
Amazing Race & Top Chef superfan with a pinch of Disney fairy dust thrown in. If you've created a rom-com I've probably watched it.
Your Daily Blend of Entertainment News
Thank you for signing up to CinemaBlend. You will receive a verification email shortly.
There was a problem. Please refresh the page and try again.