Kevin Hart Reveals Training Progress One Year After His Horrible Car Accident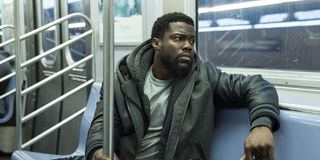 Unlike some of his comedic characters, Kevin Hart is a fighter. In the past year, he's been slowly healing and building back his strength after suffering severe injuries in a traumatic car accident. Now, in a post on social media, he's revealed just how much progress he's made after training over one year. Check it out:
Honestly, wow. He's made quite a recovery. In the post, Kevin Hart commented that he's making "slow progress but progress for sure." If that's slow progress, I don't know what fast progress would look like. He's got some impressive speed.
Last year, Kevin Hart's injuries from the car accident led him to have surgery and focus on months and months of rehabilitation. The experience forced him to put certain projects on hold so he could improve his health both physically and mentally, including stopping work on movie gigs. Later, the actor reported it was tough, noting that he was suffering from a lot of pain.
Despite having to put projects on hold, Kevin Hart said back then that he was just shocked that the car accident didn't kill anyone and was just grateful to be alive and with a new perspective on life. Co-stars Dwayne Johnson and Jack Black backed up this change in Kevin Hart, with Dwayne Johnson saying he had "a new lease."
Indeed, Kevin Hart is rollin,' but that's not to say the experience didn't shake him. Though he's doing much better now, the actor expressed recently that he had the "biggest cry" when he came home from the hospital, suddenly realizing that there could have been a chance he wouldn't have come home at all. But, the horrific car accident didn't keep the optimistic and inspirational actor down for long. Even before the accident, Kevin Hart has long been known as a fitness geek. So, it's no real surprise that he has been putting that passion to work to bring him back to fighting shape.
Though Kevin Hart had to step aside and recover for a time, he's now reportedly back to work making movies. He has a number of projects in the works, including a comedy called The Man From Toronto which will feature Kevin Hart's character running into an assassin who irrevocably disrupts his life.
Overall, it's good to see Kevin Hart back on his feet a year after his car accident. After seeing this A+ video of him boxing, perhaps it's also time for Kevin Hart to do a serious drama about a boxer. He's clearly fast and could make it look realistic. Jamie Foxx already snagged a Mike Tyson biopic, but I'd wager there are plenty of other options that Kevin Hart could choose from.
Your Daily Blend of Entertainment News
Thank you for signing up to CinemaBlend. You will receive a verification email shortly.
There was a problem. Please refresh the page and try again.