Doctor Who's David Tennant Remains Fans' Favorite, But Not By Much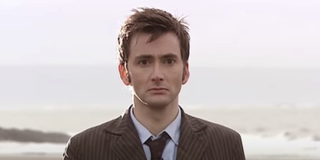 Doctor Who has reinvented and recast its iconic lead character time and time again over nearly sixty years, and viewers naturally love some versions of The Doctor more than others. Fans who have been watching since the original run have eight Classic Doctors to choose from, while the revival era has a handful of newer Doctors to offer. Now, a new poll reveals that David Tennant's Tenth Doctor remains fans' favorite, but it was a close call. I guess he didn't want to go!
In the poll conducted by Radio Times, Doctor Who fans could choose between each of the thirteen major actors to play the role, with John Hurt's War Doctor not in the running. After almost 50,000 votes were cast, David Tennant was on top with 21% of the vote. In second place was Jodie Whittaker, who plays the current Thirteenth Doctor, who scored... also 21% of the vote! So how did Tennant get the win?
I wasn't kidding when I said it was a close call! David Tennant won with 10,518 total votes, while Jodie Whittaker was hot on his trail with 10,423 votes. Yes, Tennant beat Whittaker by less than 100 votes. Congratulations to Tennant for being voted the favorite despite The Doctor regenerating three times since he left as Ten back in 2010, and congrats to Whittaker for nearly unseating Tennant at the top!
Interestingly, with the exception of David Tennant as the Tenth Doctor in first, the next three spots are actually in descending order. Jodie Whittaker/Thirteen was second, Peter Capaldi/Twelve was third with 18%, and Matt Smith/Eleven was fourth with 16%. The trend ends there, with Christopher Eccleston/Nine coming in eighth with 2%. The least favorite Doctor, with only 351 votes and 1% of the total, was Peter Davison, a.k.a. the Fifth Doctor (and David Tennant's father-in-law).
Although David Tennant's Ten regenerated into Matt Smith's Eleven back in 2010, he returned in the 50th anniversary special that changed everything, brought back Billie Piper, and introduced John Hurt as the War Doctor, who is very technically the Ninth Doctor, coming in between Paul McGann's Eight and Christopher Eccleston. Still, I don't think anybody is going to change the naming system just because Steven Moffat and Co. added a surprise Doctor for the 50th!
While Jodie Whittaker is the current Doctor, David Tennant is reprising his role again, although not on screen. He is lending his voice to the Time Lord Victorious multi-platform story, which also features the Eighth and Ninth Doctors and Rose Tyler. His return for Time Lord Victorious could account for a resurgence in Tenth Doctor popularity, but I'm inclined to think that Tennant won the poll because of an enduring love for Ten regardless of Doctor Who audio.
That said, Jodie Whittaker will have more chances to unseat David Tennant as favorite Doctor before Thirteen becomes Fourteen. She stars in the upcoming Doctor Who Season 13, although fans may be waiting quite a while. The show did manage to finish production on a holiday special, however, so Thirteen and Co. will be back on TV before the end of the year, and they're bringing the Daleks with them.
You can always get a Doctor Who fix with the first twelve revival seasons, starting with Christopher Eccleston's Ninth Doctor, streaming on HBO Max. For some additional viewing options now and in the not-too-distant future, check out our 2020 fall TV premiere schedule!
Resident of One Chicago, Bachelor Nation, and Cleveland. Has opinions about crossovers, Star Wars, and superheroes. Will not time travel.