Which America's Got Talent Season 15 Finalists Could Carry Their Own Show After Final Performances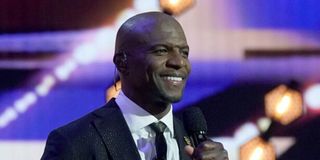 (Image credit: NBC)
Spoilers ahead for the final night of America's Got Talent Season 15 performances!
The very unconventional fifteenth season of America's Got Talent is just one results episode away from revealing which act brought enough talent to the stage to take the $1 million prize. Winning a season of AGT generally delivers something that could be even bigger than the cash prize, though, in the form of a Las Vegas stage show that could advance their careers far beyond NBC. Now, with the ten finalists turning in their final performances before viewers have to vote on who becomes Season 15 champion, it's time to look at who has what it takes to carry a show.
The various acts have evolved, updated, and taken bigger risks as the Season 15 episodes passed, so I'm going to base this evalutation on their final performances in the penultimate episode, and I'm going to do it without taking their stories into account. This is America's Got Talent, after all, and the stories that have tugged at heartstrings over the weeks might not draw crowds in Las Vegas. Read on for a breakdown of the finalists (in no particular order)!
Alan Silva
Alan Silva is an aerialist who has pulled off death-defying stunts throughout Season 15, even performing a move that previously resulted in a very serious injury. His final performance was his biggest and best, incorporating water pouring down from above, fire shooting up behind him, and lights flashing all around him. It delivered a combination of spectacle and skill that can be hard to find even on America's Got Talent. He has enough tricks up his sleeve and a flare for dramatic that I 100% think he could handle a stage show.
Archie Williams
As Howie Mandel repeatedly said in this episode of America's Got Talent, the singers had an especially tough challenge with multiple other musical acts in the mix as competition. Archie Williams brought his signature combination of style with his snazzy suits, soul in his emotional rendition of The Beatles' "Blackbird," and talent. Williams' doesn't bring the most spectacle or dazzle that I tend to associate with Las Vegas. So, it pains me to say this since he has been one of my favorites in Season 15 with his story, but I'm not sure that I can see him carrying a stage show by himself. I want to believe, though!
Bad Salsa
Salsa duo Bad Salsa had a close call in the semifinals but made it to the Top 10 in AGT Season 15, and they were able to perform on the AGT stage rather than remotely from India for this big episode. The two young dancers brought incomparable energy to go with their dizzying spins and remarkable speed in their performance, and I couldn't take my eyes off of them. That said, spins and speed aren't necessarily enough to carry a show, and the top prize might need to go to an act with more variety. I would totally pay to see them live, but that likely isn't the case for everybody.
Bello Sisters
The acrobatic trio known as the Bello Sisters performed remotely, and their moves defied gravity as well as what I previously assumed were the limits of what the human body is actually capable of. On top of showing off incredible strength, balance, creativity, and trust, they even brought out their dad to up the ante and shoot an arrow through a flower that they were holding aloft in an elaborate pose. They did seem somewhat nervous in this performance, and didn't have the advantage of the AGT stage, but their act is big and bold enough for Vegas.
Brandon Leake
Brandon Leake is a tricky one. His latest spoken word performance was in the form of a prayer about his daughter, and it somehow managed to pack even more of an emotional punch than his previous outings. That said, part of the power of his performances lies in his stillness. While spectacle isn't necessary for a stage show, a whole show comprised of the spoken word acts he has demonstrated so far might not work. Still, Leake did share his plans for a Vegas show with CinemaBlend, even if those plans weren't entirely reflected in his latest AGT performance.
Broken Roots
As another musical act, guitar duo Broken Roots is up against some stiff competition. In their case, I actually think the act went too hard on the spectacle. This was a solid musical performance with their version of Phil Collins' "In The Air Tonight," but their voices weren't the highlight thanks to the distracting flashing lights and plumes of flame. The flash and fire worked for Alan Silva as he swung above the stage; they didn't work so much for a guitar duo that wasn't really moving, and I wouldn't rank them as among the best candidates for a stage show.
Cristina Rae
I won't lie -- I think Cristina Rae is the act to beat in America's Got Talent Season 15. She has a powerhouse voice, and she delivers some serious glam with her outfits and dominates with her stage presence to the point that I definitely think she could handle her own show, and I say that as somebody who generally roots for non-singing acts on AGT. I'm not the only one who usually leans away from the singers when there are shows like The Voice and American Idol out there, so it's far from a sure thing that she'll get a show at all.
Daneliya Tuleshova
14-year-old Kazakh singer Daneliya Tuleshova can belt with the best of them, and I would have guessed that her cover of Sia's "Alive" was performed by a much older artist if I had my eyes closed. Unfortunately, much like Broken Roots, Tuleshova was overshadowed by what was happening in the background. While there was no fire, there were effects that delivered everything from a fake rain shower to hundreds of blue butterflies in a sort of jungle setting, and it pulled focus from her. Based on this outing, I wouldn't consider Tuleshova a top contender to carry a stage show.
Roberta Battaglia
11-year-old Roberta Battaglia kicked off the episode with a rendition of Alessia Cara's "Scars to Your Beautiful," and she's another singer whose voice would be impressive for an adult! I would not guess that she's still a kid just to listen to her, and she can certainly hold a note. She didn't have a busy background to overwhelm her, but I didn't think she looked entirely comfortable, to the point that she might not be ready for a stage show of her own. And really, how many people really are at the age of 11? Give the girl some time!
Kenadi Dodds
14-year-old country singer Kenadi Dodds went for a Carrie Underwood cover with a performance of "Love Wins," and she took the AGT stage with her guitar and a microphone rather than sitting behind a piano. She surprised me by showing off arguably the best stage presence of a singer other than Cristina Rae, and the judges were thrilled by Dodds as she embraced performing on stage rather than hiding behind instruments. She seized her moment, and I could see her with a stage show. Darci Lynne Farmer proved that young AGT winners can be very successful, and Dodds shone in her last performance before the votes.
All of this said, it's difficult to guess who will be announced as the champion at the end of the finale. Cristina Rae is my pick as the top singer, but Alan Silva feels very Vegas to me, and Brandon Leake shouldn't be underestimated. After all, he's the only performer that made it to the AGT finals with an act that has never been done before on the show, and there's an awful lot to be said for originality combined with emotionally powerful performances. My money is on Rae or Leake, but we'll have to wait and see.
America's Got Talent will reveal the Season 15 champion at the end of the finale, airing on Wednesday, September 23 at 9 p.m. ET on NBC. Be sure to vote in our poll below on who you think will win, and cast your AGT votes as soon as possible to make sure they count for the finale! As for what you can watch after AGT ends for the season, check out our 2020 fall TV premiere schedule.
This poll is no longer available.
Resident of One Chicago, Bachelor Nation, and Cleveland. Has opinions about crossovers, Star Wars, and superheroes. Will not time travel.
Your Daily Blend of Entertainment News
Thank you for signing up to CinemaBlend. You will receive a verification email shortly.
There was a problem. Please refresh the page and try again.