Game Of Thrones Showrunners' Follow-Up Netflix Project Hits A Snag, And Senators Are Involved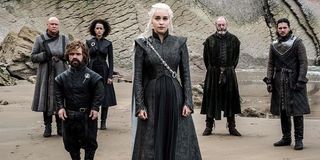 In early September, Netflix announced that Game of Thrones' showrunners David Benioff and D.B. Weiss would be adapting The Three-Body Problem into a streaming series. The project is based on the popular sci-fi trilogy by Liu Cixin, and is set to be executive produced by Star Wars: The Last Jedi and Knives Out director Rian Johnson. However, it seems that Weiss and Benioff's big Game of Thrones follow-up has hit a major snag, and it's big enough to involve U.S. senators.
To take a small step back, Disney recently came under fire by U.S. politicians after it was revealed that the live-action Mulan was filmed in the Xinjiang region of China, where over one million Uyghur Muslims are reportedly being imprisoned. Now, Netflix is facing a similar dilemma and has itself come under fire for adapting The Three-Body Problem in partnership with Liu Cixin, whose previous comments have backed the purported detainment of Uyghur Muslims in China. Thus, U.S. senators are reportedly displeased that Netflix execs, David Benioff and D.B. Weiss are working with Cixin,
Five senators — Martha McSally (R., Ariz.), Marsha Blackburn (R. Tenn.), Rick Scott (R. Fla.), Kevin Cramer (R., N.D.), and Thom Tillis (R., N.C.) — believe that entering into a contract with Liu Cixin allows the "normalization of, or apologism for" various human rights abuses made against the Uyghur Muslims, which reportedly include forced sterilization. In a letter penned to Netflix chief content officer Ted Sarandos, the senators quoted Cixin's interview regarding his views on the situation. Here's what they wrote:
The senators go on to ask Ted Sarandos and Netflix to "seriously reconsider the implications of providing a platform to Mr. Liu." The letter adds that the author's comments are concerning because they glorify the CCP's actions, which are described as a "distinction of genocide." The senators then posed four questions to Sarandos and his team to answer in light of the collaboration and suggest that those involved with the projects may be considered complicit in "such atrocities."
It's unclear how Ted Sarandos, David Benioff, and D.B. Weiss will proceed. However, should they decide to drop The Three-Body Problem adaptation, it certainly wouldn't be the first project to notably fall through for Benioff and Weiss. The duo were famously tapped to make a Star Wars trilogy before they parted ways with Lucasfilm last year. Prior to that, Benioff and Weiss were developing a controversial alt-history series called Confederate for HBO, but those plans also fell through once the duo signed their deal with Netflix.
Stay tuned to CinemaBlend for updates on this story and others. In the meantime, be sure to check out our 2020 fall TV premiere guide for more on what to watch, as well as our 2020 Netflix lineup.
Your Daily Blend of Entertainment News