Why HBO Cancelled The First Game Of Thrones Spinoff For More Dragons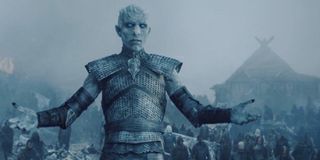 HBO has set a course for its Game of Thrones prequel series, which will follow Daenerys Targaryen's ancestors. However, prior to HBO giving the go-ahead to House of the Dragon, it had another prequel in the works, one that was axed after the pilot had already filmed. Now, HBO president Casey Bloys is opening up about why the first Game of Thrones spinoff was cancelled for more dragons.
It came as a pretty big surprise when the untitled Game of Thrones prequel, which had Jane Goldman as showrunner, was scrapped. It already had a cast — including well-known stars like Naomi Watts, Star Wars: The Rise of Skywalker's Naomi Ackie, and Oscar nominated actress Miranda Richardson — and a pilot was filmed, but it was dropped when HBO execs decided they were moving forward with House of the Dragon instead.
At the time of the announcement, the reasons the network decided to move forward with one over the other were unclear, but HBO's Casey Bloys recently told TVLine why the decision was made. Here's what he had to say:
It's still frustrating that the untitled Game of Thrones spinoff was dropped, even though this does happen a fair amount on TV after pilots are put together and even if the reason makes sense. While the prequel would have chronicled the transition from the "golden Age of Heroes into its darkest hour," it didn't have any of author George R.R. Martin's source material to draw from and the show would have had to make do without it.
House of the Dragon, on the other hand, is based on the book Fire & Blood and details the story of House Targaryen 300 years before the events of Game of Thrones. With such a rich history to draw from, it's no wonder HBO ordered the show to series. Still, the fact that the announcement came mere hours after the untitled prequel was axed stings.
That said, it would have been interesting to see what the untitled prequel had in store for its story and characters despite not having a novel as reference. Its cast was fantastic and, though the pilot was troubled, with sources citing creative differences and budget issues, there was still a lot of potential for the series. It's all too bad at this point, but at least the reason for its early demise is now clear.
Meanwhile, Casey Bloys confirmed that House of the Dragon will be on the air at some point in 2022. Stay tuned to CinemaBlend for more information about the Game of Thrones prequel. For more on what to watch, be sure to check out our 2020 midseason schedule.
Your Daily Blend of Entertainment News