Rian Johnson Wants To Direct The Mandalorian In Season 2 And That Needs To Happen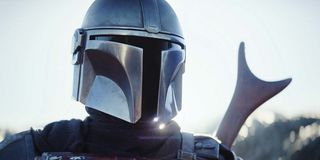 Even though Season 1 of The Mandalorian hasn't even finished releasing new episodes, the critically acclaimed Disney+ series has already begun filming Season 2. While there isn't much to know about the sophomore season of the hit series, which recently topped the list of most in-demand shows, Star Wars: The Last Jedi director Rian Johnson says he'd love to direct an episode of The Mandalorian Season 2.
In the latest episode of CinemaBlend's podcast, ReelBlend, Rian Johnson discussed Knives Out, which is making twice as much money as expected, and Chris Evans. However, his heart is never far from Star Wars and he expressed an interest in directing an episode in Season 2 of The Mandalorian. Here's what he had to say:
There's no doubt that the esteemed director, who revealed he's grateful for negative The Last Jedi comments, would bring his immense talent and creative vision to The Mandalorian. There's also the fact that Rian Johnson has already gotten a chance to explore the galaxy far, far away, so getting to direct The Mandalorian would be like riding a bike.
The Mandalorian has already made history by being the first Star Wars property to bring on female directors, including Bryce Dallas Howard and Deborah Chow, who's also been tapped to direct the upcoming Obi-Wan Kenobi series for Disney+.
If Rian Johnson were to ever direct an episode of The Mandalorian, it would make for a nice transition from helming a Star Wars movie to a TV show. With all the discourse still surrounding Star Wars: The Last Jedi, it's possible Johnson might enjoy directing The Mandalorian more. And who knows? Maybe he could find new ways to make the ever-popular Baby Yoda, who has a new internet meme, even more adorable than he already is.
Rian Johnson, who also knew about Baby Yoda in advance and couldn't say a word, claims he has no time to direct The Mandalorian right now. Still, since there are currently "no updates" from Lucasfilm on his next Star Wars endeavor, the sliver of hope that he could direct the Disney+ series in the future is still there.
However, until we hear more about Season 2, all discussion surrounding The Mandalorian, which recently had its own Game of Thrones moment, is limited to the series' first season.
New episodes of The Mandalorian Season 1 are available to stream on Disney+ every Friday. Season 2 doesn't have a scheduled premiere date quite yet, but stay tuned to CinemaBlend for more information. In the meantime, be sure to check out our complete guide to see what's available and coming soon to the streaming service.
Your Daily Blend of Entertainment News