Kelly Clarkson's Talk Show Is Headed Back Into Production But With A Major Change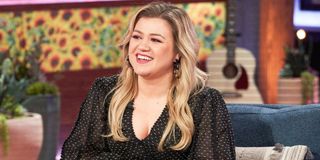 Kelly Clarkson has kept herself busy in the months since The Kelly Clarkson Show had to shut down production. Like most talk show hosts, the American Idol alum filmed remote episodes of the series from the comfort of her ranch in Montana. But she's gearing up to return to the studio to film new episodes of her show. Interestingly enough, the live audience will still be an important component of the talk show, but there will be a major change to how it works when the show resumes.
Currently, all productions that have gone back to filming have implemented new safety measures and guidelines to protect all staff working. The Kelly Clarkson Show will be no different. Whereas series like The Tonight Show Starring Jimmy Fallon and The Conners have nixed live studio audiences completely upon resuming production, The Kelly Clarkson Show will still be taped in front of a live audience. Per Deadline, however, that audience will now be a virtual one for Season 2.
It's fascinating stuff and probably the first time I've heard about a show implementing a virtual audience during filming. I think it's definitely a creative way for Kelly Clarkson to maintain audience engagement while also keeping to social distancing and safety protocols. Having a virtual audience also allows fans who may not have been able to fly to Los Angeles before to be a part of The Kelly Clarkson Show from the comfort of their homes. It seems like a win-win situation all around.
All that said, it's unclear how many virtual guests will actually be allowed to attend each taping. Fans will still have to request seats like they would have done if attending in-studio, but there are no further details about the virtual audience beyond that it's happening for Season 2.
You can check out the tweet below to find out more about requesting your own virtual seat for the talk show:
Aside from the virtual live audience, The Kelly Clarkson Show will be complying with all safety guidelines being implemented by NBCUniversal, the CDC, as well as state and local protocols. The talk show is expected to resume production at the beginning of September, with new episodes airing the week of September 14 ahead of Season 2's official launch.
In addition to hosting her own talk show, Kelly Clarkson also stepped in for Simon Cowell as a judge for America's Got Talent. Cowell is currently recovering from surgery after breaking his back ahead of Season 15. Clarkson has already done such a great job filling in for Cowell that some wouldn't mind seeing her on a regular basis. However, Clarkson's also returning for The Voice Season 19 and there's only so much one person can balance with work, am I right?
The Kelly Clarkson Show Season 2 will premiere on September 21. The series airs in syndication, so check your local listings for more information. In the meantime, be sure to check our fall TV schedule for more viewing options.
Your Daily Blend of Entertainment News
Your Daily Blend of Entertainment News
Thank you for signing up to CinemaBlend. You will receive a verification email shortly.
There was a problem. Please refresh the page and try again.