Saturday Night Live's Kenan Thompson Describes The 'Newish' Process Of Shooting Quarantine Episodes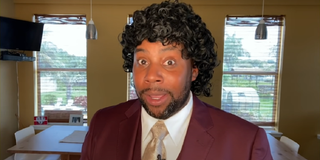 Saturday Night Live was among the hundreds of TV (and movie) productions that shut down filming in March due to the ongoing pandemic. While the long-running variety show might return to the studio soon, the final episodes of Season 45 were filmed remotely. Recently, Saturday Night Live's Kenan Thompson described the "newish" process of shooting quarantine episodes and how it impacted his work.
Kenan Thompson is currently Saturday Night Live's longest-running cast member. With such longevity comes a numerous number of memorable sketches, from Thompson's rendition of his Emmy-winning song "Come Back, Barack" to his hosting Black Jeopardy. In the spring, however, Thompson found himself having to produce sketches for the Saturday Night Live at Home edition. How did the comedian adjust to the change? Here's what Thompson told EW's The Awardist podcast:
I was honestly impressed with how much better the production value got over time, so kudos to Kenan Thompson and Saturday Night Live's production staff for being able to pull that off. I'd wager that Thompson's use of green screen made the process of making the music videos that much easier (and was entertaining for us to watch as well).
What's more, Kenan Thompson was once again nominated for an Emmy award this year. However, the circumstances surrounding the actor's nomination for supporting actor in a comedy series are different than previous years. Thompson actually submitted the second episode of Saturday Night Live at Home in lieu of a studio-produced episode. I think that his work from home being recognized just goes to show that the magic of television can also happen remotely if there's good enough equipment.
All that said, Saturday Night Live may be leaving remote episodes behind for Season 46. Producer Lorne Michaels is reportedly making plans for the NBC series to return to its studio at 30 Rockefeller Plaza. However, the chances of a live audience being involved seem slim to none.
In fact, the live studio audience has been cut from several late night shows like The Tonight Show Starring Jimmy Fallon (which Lorne Michaels produces), game shows, and sitcoms like The Conners. Meanwhile, talk shows like The Kelly Clarkson Show are opting for virtual live audiences as a substitute for the time being.
Saturday Night Live Season 46 does not yet have a premiere date, but stay tuned to CinemaBlend for updates. In the meantime, be sure to check out our 2020 fall TV schedule for more viewing options.
Your Daily Blend of Entertainment News
Your Daily Blend of Entertainment News
Thank you for signing up to CinemaBlend. You will receive a verification email shortly.
There was a problem. Please refresh the page and try again.