12 Arrested Development Inside Jokes That Are Still Hilarious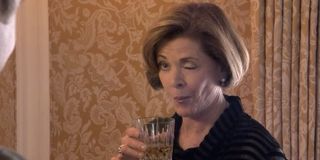 In a time where television and all entertainment, in general, are slowly trying to find its way back to viewers, it's a great time to revisit the classics. This is especially true with Arrested Development which, while it did struggle a bit on television during its original run, remains one of the funniest shows one can watch on streaming.
Part of what keeps Arrested Development so good years after its premiere is the clever writing and inside jokes that were established and revisited frequently throughout the show's run. The following are some of the best inside jokes the series has to offer and may inspire even the most die-hard fans to fire it up for a re-watch. By the way, this list gets so much better if you read it in your head as Ron Howard.
Buster's Hand
Buster Bluth losing his hand to a seal was already fun by itself, but Arrested Development really spun that traumatic event into some real comedy over successive seasons. Buster went through an extensive number of growing pains searching for a replacement hand, and would frequently injure himself or others in the process. More often than not these incidents would result in Buster dramatically screaming "I'm a monster," and running from the room. The super military hand may have been the best, though I'd say his hook hand was a close second.
Mr. F
Mr. F was a "mystery" that lasted a while in Season 3 of Arrested Development, as Michael Bluth was convinced agents were tracking his movements. This leads him to accuse his new girlfriend Rita, who has a bracelet with the letters "MRF" on it, of being a spy. As fans already know, the bracelet is actually meant to serve as an indicator that Rita is mentally disabled. Once Rita is cleared as the spy he tends to forget about it, and gets close to marrying Rita until he realizes all the signs all along about Rita's condition.
Franklin Bluth
An unofficial member of the Bluth family, Franklin is a black puppet G.O.B. originally used to "hip up" his magic act. Franklin pops up randomly throughout the series and often presents stereotypical and offensive commentary on whatever is happening in the family. The best part about this bit is that many of the Bluths and others refer to Franklin as if he were an actual living person, including George Bluth Sr. who often chokes him for comments he makes about Lucille.
The Bluth's Notoriety In Mexico
The Bluth family is relatively well-known in Mexico and by Mexicans, though not for the right reasons. Arrested Development explained George Sr. marketed his recalled product there called the "Cornballer" which failed due to its ability to give the user extensive burns. George is a wanted man in Mexico because of this, though may have won some points back with its people thanks to his successful marketing of family home videos called Boy Fights. Buster is later recognized by Mexican workers for the Bluth family as the "boy who is too old to breastfeed," thus proving their popularity.
"Bees?"
Arrested Development's bees conversation began with G.O.B. misunderstanding Lindsay's job with beads, and deciding to steal the "idea" for his own. The moment led to some comedy in the first episode, but really paid off in Season 4 when it was revealed G.O.B. actually had a business and a bee colony. G.O.B. loses the colony when they get loose in his limo, escape, and ruined his father's sweat lodge operation.
George Michael's Star Wars Tape
The Bluth family was once an overspending wealthy family but throughout most of Arrested Development, doesn't always have the money they need for things. Sometimes they spend the money anyway, but at times you'll see cases where people frequently re-use the same objects due to the lack of funds. Many videos produced by the Bluth family frequently cut to a video George Michael used to recreate a Star Wars scene, which he recorded over a Bluth company party. George Michael's bit typically appears at the tail end of videos a couple of times in the series.
Bob Loblaw Replacing Barry Zuckercorn
The Bluth's replace their attorney Barry Zuckercorn with Bob Loblaw temporarily, in a joke with layers. Scott Baio plays Loblaw and replaces Henry Winkler's Zuckercorn much as he did with another role in the two's television career. The recasting is a nod towards Baio's Chachi replacing Winkler's Fonzie in Happy Days. Take that, paired with the fact that narrator Ron Howard played Happy Days' Richie Cunningham, and this show had a solid semi-reunion of these classic television actors.
Recycled Banners
The Bluth's thriftiness is shown again in the use of recycled banners many times in Arrested Development, and are a must for any major gathering. "Happy Trails Pard'ner" is one frequently used, as is "Mission Accomplished," regardless of whether or not they're appropriate. The best in my opinion is the "You're Killing Me, Buster" which is altered many times to say different messages to Buster at various points in the series.
J. Walter Weatherman
Once an employee of the Bluth Company, J. Walter Weatherman got a new lease on life after an on-the-job accident cost him his arm. George Sr. frequently hired Weatherman over the years to teach lessons to his children by constructing elaborate scenarios in which Weatherman would lose an arm. Beyond the appearances by him throughout Arrested Development, the show adds some dynamic in G.O.B. and Michael having a fear of Buster when he loses his hand. This comes full circle down the way when G.O.B. and Michael pull a double fake-out and use Buster to teach George not to use people missing limbs to teach lessons.
"Her?"
When George Michael found Anne, I really wanted to root for him because it seemed like he was mostly over the whole being in love with his cousin thing. He was happy, but Michael was generally displeased that his son would date a girl so plain people would forget she was even present. Anne is frequently referred to as "her" throughout the series mostly because the Bluth's often forget her name, and even occasionally refer to her as "egg."
Blue Handprints
I can't believe it's taken this long for us to get to Tobias, who in truth is worthy of his own post entirely. One of Tobias' best storylines however is his stint as a stand-in for The Blue Man Group, in which he's required to cake himself in blue paint frequently in case he needs to fill in.This results in a lot of hi-jinx of Tobias hiding with blue paint, but throughout the series, blue handprints can be seen on various objects in the Bluth house because of the frequent painting.
"I've Made A Huge Mistake"
Without question, this is the most iconic line in Arrested Development. More often than not it was uttered by G.O.B. because of the wild situations he'd get himself into, but others in the Bluth family would utter it as well. Obviously, the line is self-explanatory, and when it comes to the Bluth's there's a reason why it gets said so often. This family is a hot mess, and as long as that continues to be the case, this line will always be on one of their lips.
Catch all seasons of Arrested Development (opens in new tab) on Netflix. As always, continue to stick with CinemaBlend for all the latest happenings with the show, and a look ahead at all goings-on in television and movies.
Mick likes good television, but also reality television. He grew up on Star Wars, DC, Marvel, and pro wrestling and loves to discuss and dissect most of it. He's been writing online for over a decade and never dreamed he'd be in the position he is today.