Marvel's MODOK TV Show Looks Nothing Like We Expected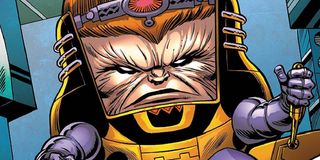 The slate of Marvel TV shows has dwindled over the years, and Agents of S.H.I.E.L.D. marked the end of an era for the studio's old television branch in many ways. However, while most series like The Falcon and the Winter Soldier and WandaVision are headed to Disney+, Hulu still has some Marvel shows in the pipeline. One of which is M.O.D.O.K., the new series starring Patton Oswalt. First look images were released recently and it turns out the show looks nothing at all like we expected.
M.O.D.O.K. — which is an acronym for Mobile Organism Designed Only for Killing — is an upcoming stop-motion animated comedy series. Marvel's latest show is unique in that it looks more like Coraline and Robot Chicken than traditional animation, which seems to fit the show. M.O.D.O.K.'s official Twitter account dropped some preview images featuring the big-headed villain. Check it out below!
That looks pretty cool! The attention to detail is impressive, and M.O.D.O.K. looks unsettling whether he's smiling or angry. The titular character is one of Marvel's most recognizable comic book villains. He's got an oversized head and a penchant for world domination, which is pretty par for the course in the superhero genre.
However, the animated series is going to explore his rather mundane family life. Talk about a twist! While I suspect M.O.D.O.K. will be incredibly funny, it's described as an adult animated stop-motion comedy and the premise of the show is rather simple, following M.O.D.O.K. while he isn't scheming and plotting to take over the world. I imagine that the transition from supervillain to an average everyday guy is really absurd for this character, but I love it!
In addition to Patton Oswalt, the animated Marvel series stars Brooklyn Nine-Nine's Melissa Fumero, Lucifer's Aimee Garcia, Parks and Recreation's Ben Schwartz, and more. M.O.D.O.K. was first announced in 2019, alongside a number of other Marvel Hulu projects like Howard the Duck and Tigra & Dazzler, which were both later pulled from production. But, Hulu still has the animated series Hit Monkey and the live action drama Helstrom on the way.
The good news is that the first look images won't be flying solo. The official M.O.D.O.K. account also promised an additional surprise after the show's panel at New York Comic Con. Could it possibly be a premiere date? Maybe a trailer? It's hard to say at this point, but the images alone are good enough to make me excited for what's to come.
M.O.D.O.K. does not yet have a scheduled premiere date, but it will eventually debut on Hulu. Stay tuned to CinemaBlend for updates on that and everything else in movies and TV, and be sure to check out our 2020 fall TV schedule for more viewing options.
Your Daily Blend of Entertainment News
Your Daily Blend of Entertainment News
Thank you for signing up to CinemaBlend. You will receive a verification email shortly.
There was a problem. Please refresh the page and try again.