6 WandaVision Questions We Have After The First Trailer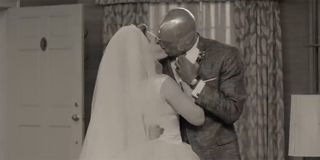 There is no question that 2020 has been a strange year for Marvel fans, as this is the first year since 2009 that a Marvel Cinematic Universe film hasn't graced the silver screen – but if you're looking for a silver lining, it's that there is at least one new big project being released in the calendar year: WandaVision. The Disney+ miniseries centering on Elizabeth Olsen's Scarlet Witch and Paul Bettany's Vision has been promised before the end of December, and as though to give us confidence in that promise we saw a fantastic debut trailer launch.
As wonderful as the first look is, however, it also did a rather good job bending our brains and make us ask a lot of questions – which is what inspired the creation of this feature. The WandaVision trailer may only be 80 seconds long, but it's seriously weird, and has inspired a great deal of curiosity about the show. So without further ado, let's dive in!
Seriously, How Is It That Vision Is Alive?
Let's start by addressing the big question that fans have been asking for months now, and is directly addressed in the WandaVision trailer itself. There is a kind of catharsis that comes when Kathryn Hahn's character acknowledges that Vision died during the events of Avengers: Infinity War, as it feels like confirmation that we're not being gas lighted. It feels like the easy answer is that he simply manifested as an extension of Scarlet Witch's grief and comic book ability to alter reality, but the true explanation could also easily be far more complex and sinister. Perhaps a powerful villain is making the Witch look in one direction, and miss what's happening the other way. And on that note…
Who Is Kathryn Hahn Playing?
While the majority of the WandaVision cast is made up of characters who have either been previously established in movies, or have had their roles specifically confirmed, there is still one outlier in the pack – and she is a big mystery. At 2019's D23 Expo we learned that Kathryn Hahn was joining the ensemble, but the description of her part didn't go beyond "Nosy Neighbor" (instantly conjuring the image of Gladys Kravitz on Bewitched), and now this trailer has only served to make us more curious. It would appear that she is definitely a significant part of the show's reality shifting, as indicated by the fact that she's the only character other than the eponymous heroes who appears in multiple eras, and our best bet is that she is going to be eventually revealed as the central antagonist.
How Are The Moving Through Different Eras?
Not only is it odd that Kathryn Hahn's character seems to move through the different eras, but there is also the weirdness that is the changing eras themselves. There is a scene in the middle of the footage that shows the main characters watching their world change from black-and-white to color, and that only further deepens the mystery. If Scarlet Witch were actually controlling the reality shifts, she wouldn't seem so entranced by the magic, right? This is yet another summoned question that suggests that there could be some larger powers at play pulling the strings in WandaVision… but we'll probably just have to watch the show to uncover all of the secrets.
Exactly When Is All Of This Taking Place?
At present, the Marvel timeline is a bit… screwy. The events of Avengers: Endgame saw the continuity jump forward five years, and then on top of that the studio has been forced to reshuffle their cards a bit in terms of scheduling release dates – with WandaVision being a prime example given that it was originally on the 2021 calendar. Add in the alternating era aesthetics and it's really not easy to pin down exactly when it is that the show is set, beyond taking place after Avengers: Infinity War (given the whole "Vision being dead" thing). Most Marvel Cinematic Universe projects have an interesting and specific way of slotting into the larger canon, and we'll have to wait and see what the Disney+ show's approach will be.
Where Is Monica Rambeau Flying From And To?
One of the most exciting bits of news about WandaVision revealed at San Diego Comic-Con 2019 was that the show would be the story continuing an arc that began in Captain Marvel: the journey of Monica Rambeau. Monica was portrayed as being just a kid in the 1990s-set blockbuster, but the debut Marvel Disney+ show will see her all grown up and played by Teyonah Parris. What's more, the first trailer for the miniseries suggests that she will be gaining her Photon powers, including teleportation, but we're still left asking questions. Specifically we want to know where it is that the character is flying in her introductory shot, and where she ends up (it definitely looks like some kind of covert army base).
Where Are Darcy And Agent Woo?
The WandaVision trailer has provided us opportunity to talk about the majority of the main players on the show in this feature… but it's also hard not to notice the key characters who aren't featured in the footage. It was confirmed last year that the show will include Kat Dennings' Darcy Lewis from the first two Thor movies, and also Randall Park's Agent Woo from Ant-Man And The Wasp, and their absence in this material is noticeable. Perhaps they only appear in later episodes, and thus can't be cut in without spoilers leaking? Maybe we'll get a glimpse of them in the next piece that the publicity team releases.
At present, WandaVision doesn't technically have an official release date, but we know it's being released in 2020 and after November, so you can do the math. We'll be keeping a close eye on developments involving the show as we get closer and closer to hitting Disney+, so be sure to stay tuned here on CinemaBlend, and hit the comments section with all of your thoughts, feelings, and opinions about the trailer!
Your Daily Blend of Entertainment News
Assistant Managing Editor
NJ native who calls LA home and lives in a Dreamatorium. A decade-plus CinemaBlend veteran who is endlessly enthusiastic about the career he's dreamt of since seventh grade.
Your Daily Blend of Entertainment News
Thank you for signing up to CinemaBlend. You will receive a verification email shortly.
There was a problem. Please refresh the page and try again.