8 Must-Watch Tatiana Maslany Performances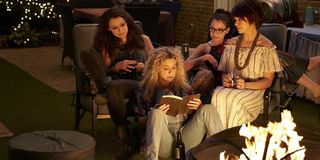 Tatiana Maslany was rumored to be the new She-Hulk, but that rumor has recently been debunked, at least for now. Like many, I was excited when I heard this news because I think Tatiana Maslany is a very talented actress and I wanted to see what she brought to the She-Hulk role. Though we may not get to see her take on the green superhero, there are many great Tatiana Maslany movies and TV shows available to watch.
These films and television shows highlight why Maslany is a fascinating character actor with the potential to become an even bigger Hollywood star. For this list, I tried to select as many movies where Maslany was the main character or a key supporting character.
Orphan Black (Sarah Manning And Other Clones)
Orphan Black is the story of a woman who discovers that she's a clone. She then sets out to find out the story about her other sisters and the whole cloning process in general. It aired on BBC America from 2013 to 2017. The series earned Tatiana Maslany an Emmy award and other acting awards.
Tatiana Maslany is mesmerizing in Orphan Black. Constantly, she creates different personas for her characters. She's played at least ten different characters on Orphan Black and each one felt distinct and different. Maslany manages to completely convince you that each character is unique, so much so that you forget that it's the same actress playing each of these women. Even if you're not a huge science fiction fan, Orphan Black is worth watching for the extremely impressive acting by Maslany.
Ginger Snaps 2: Unleashed (Ghost)
The 2004 Canadian horror film Ginger Snaps 2 follows Brigitte Fitzgerald (Emily Perkins) as she tries to fight her werewolf transformation. She meets Ghost (Tatiana Maslany), a young girl very fascinated by werewolves and Brigitte's possible transformation.
Ginger Snaps 2: Unleashed was Tatiana Maslany's first major role and she creates such a memorable character with Ghost. Everything from Ghost's pale skin and haunting blonde hair to her creepy nature makes this character stand out. Ghost is this seemingly innocent character who reveals that she's far more sinister in nature than expected. Maslany really creates this unhinged little girl.
Grown Up Movie Star (Ruby Fry)
Grown Up Movie Star is an extremely Canadian movie-- hockey references and all. It's about a 13-year-old named Ruby (Tatiana Maslany) who after her mother abandons the family, lives with her single father Ray (Shawn Doyle), and sister Rose (Julia Kennedy). Ruby dreams of joining her mother and living a glamorous life as a model or movie star in the United States.
Tatiana Maslany was much older than 13 when the movie was released in 2010, but her young looks and acting skills make it easy for you to believe that she is this young teen trying to understand her sexuality and embrace it. Sometimes Grown Up Movie Star is really funny and other times it's quite tragic, and it keeps you engaged the entire film, mainly from the stellar acting job specifically by Maslany and Shawn Doyle.
Drunk History (Emmeline Pankhurst)
Tatiana Maslany appeared in Drunk History Season 5, Episode 5, "Civil Rights." She plays real-life suffragette Emmeline Pankhurst. The premise of Drunk History is that while drunk, comedians retell events in history. Actors then act out their story, and the comedians do the voice-overs. Kirby Howell-Baptiste retold the "Suffrajitsu" segment.
In it, she recounts how the suffragettes learned jiu-jitsu to be ready to protest. The story has a lot of little twists here and there, including a body double and a battle between the suffragettes and the police. The fun thing about this performance is that Tatiana Maslany has to use her facial expression, not voice, to act out this role. She gets to go very over-the-top in a really funny way.
The Other Half (Emily)
Tatiana Maslany and Tom Cullen starred in The Other Half as Emily and Nickie. The movie starts with their first meeting and then documents their emotional relationship. Emily is bipolar and Nickie is filled with rage as he continues to grieve the disappearance (and presumed death) of his brother. Cullen and Maslany both give top-notch performances, but Maslany's portrayal of Emily as she goes through all her manic and depressive bipolar episodes once again shows Maslany's incredible range as an actor.
She excels at creating complex characters who resonate with viewers. You rooted for Emily, but also became frustrated with her and felt sorry for her at other moments. Cullen and Maslany have great on-screen chemistry (as they used to date), which made it easy to invest in them and their story. You also understood why they might be too damaged for a healthy relationship right now.
Perry Mason (Sister Alice)
Perry Mason is HBO's version of the iconic detective character from Erle Stanley Gardner's books and short stories. The character eventually appeared in different TV series, one on CBS and NBC. The first season of HBO's Perry Mason follows Perry (Matthew Rhys) and company as they investigate the kidnapping and murder of a child in 1932. Tatiana Maslany plays Sister Alice.
Alice is a preacher who is almost a cult-like figure. She is the leader of the Radiant Assembly of God. Tatiana Maslany's character is all-consuming in her religious beliefs and how she preaches them. Maslany does a good job of creating this slightly eerie character who you aren't 100 percent sure of her motives, but you can also see how she cumulated such a loyal group of followers.
Pink Wall (Jenna)
Tom Cullen directed Pink Wall, a movie starring Jay Duplass and Tatiana Maslany as Jenna and Leon. It shows different moments in their relationship, like when Jenna is preparing to leave for Japan, and when they have a talk about having children. Maslany gives an intense performance as Jenna, who isn't exactly Polly Sunshine but also isn't a cold-hearted witch.
Pink Wall is on the same level as Marriage Story with highlighting all the bumps, bruises, and ugly moments between two people who have been together for a while and aren't exactly heading down a blissful path. Pink Wall is not all doom and gloom as it also shows the happier moments in their relationship, which makes the story more complicated.
You see the ugly side of Jenna and Leon, but also moments that show a loving relationship. Pink Wall makes you also conflicted about whether this couple should try to make it work or move on, and that's only possible because of the layered performances by Duplass and Maslany, who take the movie to live theater levels of intimacy.
Stronger (Erin Hurley)
Stronger follows Jeff Bauman (Jake Gyllenhaal) as he deals with the loss of his legs from the Boston Marathon bombings. It follows Bauman as he spirals downward while tackling the new obstacles that come with his amputation. Tatiana Maslany played Jeff's ex-girlfriend Erin. Jeff goes to the marathon to support Erin, which causes her some guilt.
Stronger is a tear-jerker movie that showcases the emotional and physical barriers faced by Jeff. Erin also faces her own struggles as she's riddled with guilt, and then tries to hold it together as Jeff falls more apart. You feel the raw emotions from both Jeff and Erin as they know that Jeff's self-destructive behavior will bring them both down if he doesn't change.
Most of these Tatiana Maslany movies and TV shows are available to stream on various platforms. Other Maslany movies and shows you may want to check out are Two Lovers And A Bear, Destroyer, Picture Day, Cas and Dylan, and World Without End.
Spent most of my life in various parts of Illinois, including attending college in Evanston. I have been a life long lover of pop culture, especially television, turned that passion into writing about all things entertainment related. When I'm not writing about pop culture, I can be found channeling Gordon Ramsay by kicking people out the kitchen.
Your Daily Blend of Entertainment News
Thank you for signing up to CinemaBlend. You will receive a verification email shortly.
There was a problem. Please refresh the page and try again.