Wait, Is Tatiana Maslany Not Playing She-Hulk For Disney+ After All?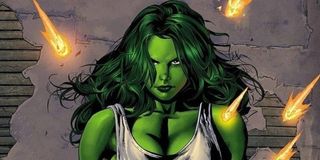 It was reported last month that Orphan Black alum Tatiana Maslany had been cast as the titular character in the Disney+ show She-Hulk. The news was covered by every major media source and even Hulk actor Mark Ruffalo welcomed Maslany to the MCU family. However, when she was recently asked about the role, Maslany says that she's actually not playing She-Hulk. Wait, what?
Tatiana Maslany was reportedly cast to play Jennifer Walters, Bruce Banner's lawyer cousin who later transforms into the green and powerful She-Hulk. Alongside the news that Kat Coiro had joined to direct several episodes, Maslany's casting was a major step forward for Marvel's Disney+ series. However, in a strange turn of events, Maslany told The Sudbury Star that the casting news was a mistake. Here's what she said:
I'm not going to lie, I think calling it a press release "that's gotten out of hand" is a strange thing to say. Press releases are typically filled with official statements, casting, and other pertinent information about a project that the media then reports on. Considering that Tatiana Maslany's casting was reported on by the biggest outlets covering Hollywood (and not a slew of untrustworthy sites), to refute her casting is a major twist, in my opinion.
Prior to Tatiana Maslany's alleged casting, GLOW and Community vet Alison Brie was rumored to star as She-Hulk. However, those rumors were put to rest when word got out that Maslany had reportedly been cast in the role. Of course, Marvel does have a history of trying to keep projects and character details under wraps. That said, reputable sources have reported on casting for Marvel projects in the past without incident. Now, I'm not really sure what to think.
In May, She-Hulk writer Dana Schwartz revealed that the writers' room had ended, which presumably meant that the scripts for the Disney+ show were completed. With the scripts done and a director and lead actress hired, She-Hulk could have theoretically started production very soon. However, with Tatiana Maslany denying her casting as Jennifer Walters, it's unclear what's going to happen with the Disney+ show next.
Currently, WandaVision, The Falcon and the Winter Soldier, and Loki are slated to be the first batch of Marvel TV shows to debut on the streaming service. Elsewhere in the MCU, Ms. Marvel has found its star, and Samuel L. Jackson is reportedly set to reprise his role as Nick Fury in his own Disney+ series.
Stay tuned to CinemaBlend for updates on She-Hulk. In the meantime, be sure to check out our 2020 fall TV premiere guide for more on what to watch.
Your Daily Blend of Entertainment News
Your Daily Blend of Entertainment News
Thank you for signing up to CinemaBlend. You will receive a verification email shortly.
There was a problem. Please refresh the page and try again.