Mom Showrunner Reveals Why Killing Off Christy Wasn't 'An Option' After Anna Faris' Departure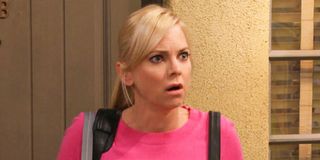 Warning! Spoilers ahead for the Season 8 premiere of Mom.
During Mom's extended hiatus ahead of Season 8, star Anna Faris revealed her decision to exit the show. The announcement was pretty unexpected and surprising, considering Faris' long history playing Christy Plunkett. During the Season 8 premiere, Christy's absence was quickly explained in a pretty safe way, and Mom showrunner Gemma Baker explained that the option to kill the character off the character was never "an option" for the writers.
Anna Faris confirmed her departure from the CBS sitcom in September, revealing that she wanted to pursue other opportunities outside of Mom. Losing one of the show's two co-leads obviously put the series in a bit of a rough spot as the writers brainstormed how Christy would be written off the show? The answer, according to the Season 8 premiere, was to have Christy receive a scholarship to attend Georgetown Law School in Washington, D.C. Whew! That could've been handled a lot differently, considering how other TV shows tend to handle absent characters. Here's what Gemma Baker told EW about the decision to avoid giving Christy a more depressing send-off:
I'm on board with how the writers handled Christy's storyline. Death would have been far too convenient a way to sweep things under the rug, and I'm sure viewers wouldn't have enjoyed for Christy to have died offscreen anyway. Christy earning her way into law school makes a lot more sense after seven years of build-up and recovery, and now that hard work is finally getting some payoff.
Plus, a full scholarship to law school just goes to show that Mom was thoughtful when it came to Christy's fate, and avoided something more generic or a fate the character wouldn't agree with . Bonnie already cried her eyes out after dropping Christy off at the airport in the Season 8 premiere, but at least they were (in some part) tears of joy and not sadness.
While Anna Faris' exit was sad, Gemma Baker says that Mom has become more of an ensemble show over the course of its seven seasons and that is why she and the writers never really panicked after learning that Faris was leaving. As such,, viewers should probably expect Adam, Tammy, Jill and the rest of the characters to take center stage now that Christy is no longer around. While everyone's mileage may vary, that doesn't sound like a bad way to go in Season 8, all things considered.
New episodes of Mom Season 8 air Thursdays at 9:00 p.m. ET on CBS. For more on what to watch in the meantime, be sure to check out our 2020 fall TV premiere guide.
Your Daily Blend of Entertainment News